Should You Try That "Coffee in the Laundry" Hack on Your Dark Clothes? We Asked an Expert
We independently select these products—if you buy from one of our links, we may earn a commission. All prices were accurate at the time of publishing.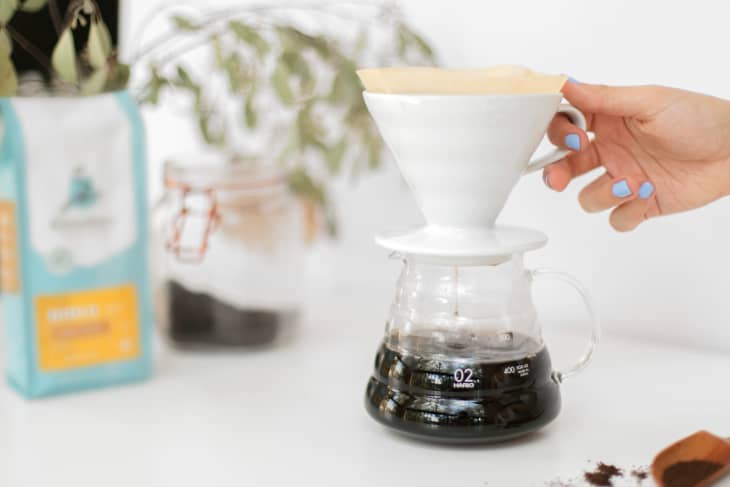 Rumor has it, pouring a cup of brewed coffee into your washer's rinse cycle with your load of darks can help keep black clothes black. According to Wikihow, a few cups of coffee or tea acts as a natural dye that will strengthen and support your garment's black dye to keep your dark clothes dark.
Follow Topics for more like this
Follow for more stories like this
But according to laundry expert Laura Goodman, senior scientist at Procter & Gamble, adding coffee to your washer cycle to keep clothes from fading will probably do more harm than good. 
While Goodman says adding coffee to the rinse cycle *might* provide some dye-like effects to dark clothes, it won't necessarily prevent your garments from fading. In older washing machine models, one cup of coffee in a rinse cycle would be very diluted by all the water the washing machine is adding to the load, so even using it to dye or stain clothes might not work. And in a low-water rinse, such as with high-efficiency washing machines, using coffee may run a higher risk of irregularly staining or messing up your fabrics. 
In other words, save your coffee to treat yourself, not your clothes. 
How to actually keep your black clothes black 
"The chlorine in tap water can cause considerable fading, like a tiny dose of bleach in each wash and rinse," she says. "The ingredients in Tide are able to 'lock up' chlorine molecules in the water to help prevent them from fading clothes."
Along with keeping fade-promoting chlorine in check, Goodman suggests using a fabric conditioner in the wash, which works on clothes much like a conditioner you use in your hair after shampooing. "The friction and heat from the laundry process can damage fibers, which can dull the colors of your favorite clothes," she says. "When [fabric conditioner] is added to the rinse cycle, it conditions every fiber to help protect your clothes from fading as well as from stretching and fuzz."
Here are some other tips Goodman suggests for keeping your dark clothes looking great, longer: 
Button buttons, zip zippers, and turn all your garments inside out before washing.
Wash your dark clothes in cold water to prevent dyes from leaching.
Dry on low heat or hang black garments to dry if you want to completely avoid heat damage from the dryer.
If you want your garments professionally restored, check out Tide Cleaners' Back to Black restoration program.