This Inflatable Cold Plunge Tub Can Be Taken Anywhere
We
independently
select these products—if you buy from one of our links, we may earn a commission. All prices were accurate at the time of publishing.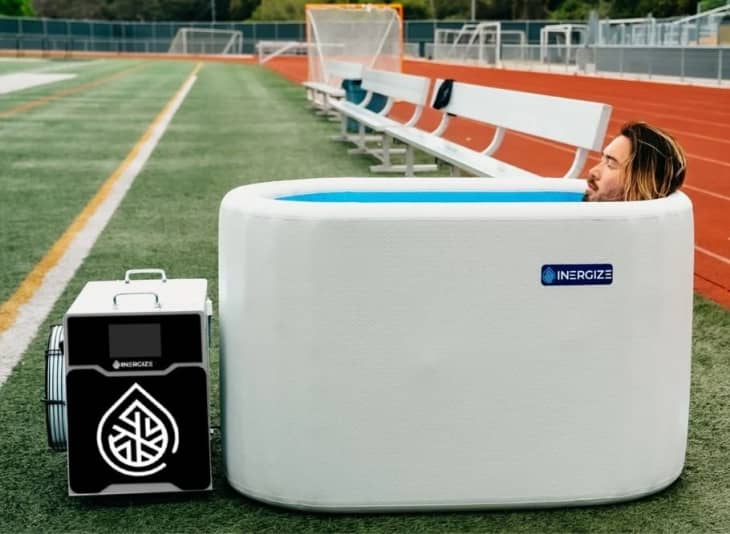 Need a refreshing dip but you're far from a pool? There's a solution for that.
In just 15 minutes, athletes and health-conscious consumers can partake in cold therapy everywhere and anywhere thanks to the new portable cold plunge tub from Inergize. Cold therapy is used to boost energy, speed up muscle recovery, and charge immunity and can now be done wherever there's an outlet.
Inergize's Cold Plunge Tub is made from a lightweight durable material that is safe to use outdoors and weighs about 25 pounds when packed away into its duffle bag. It comes with an easy-to-use pump for easy inflation and a UV sanitation system that filters the water seven times each hour. This means you can leave water in the tub for several weeks at a time for daily use.
The quick-fit inlet and outlets make cooling and filtering easy. A tub can be cooled from 65°F down to 37°F in just about 2.5 hours. And you can connect your chilling system to an app on your phone to customize your temperature and water settings.
The tub can hold up to 30 inches of water and is deep enough for a 6'4" person to submerge themselves without water spilling over the edge. And when it's time to drain, just attach a standard garden hose and direct the water to a storm drain or garden.
Inergize Health started an Indiegogo campaign for the Cold Plunge Tub that has exceeded its $10,000 fundraising goal. The tubs, which will be sold for just over $4,600 to Indiegogo supporters on launch day (and $5,190 to regular customers), will begin shipping in December 2022.