"Collage Weaving" Is the New Technique Taking Over TikTok
We
independently
select these products—if you buy from one of our links, we may earn a commission. All prices were accurate at the time of publishing.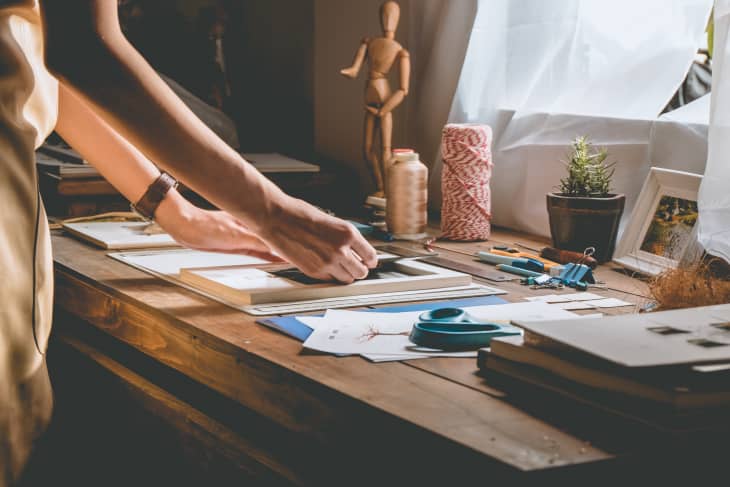 You may remember being taught how to do paper weaving back in grade school. Over, under, over, under — and you end up with a new piece of paper that has a basket weave. One artist on TikTok has taken that process and amped it up a few notches to create psychedelic art that will really pop on your gallery wall.
Alissa Voth (@collages.etc) shared a video showing how she creates her collage works. She starts with a single photo and slices it into several vertical sections using wavy cutting lines. The more pieces you cut your photo into, the more intense the final collage will be.
She then repeats the process on a second photo — except this time, she cuts the picture into horizontal sections rather than vertical.
Then the over-under weaving process begins.
"They look like memories," one TikTok user commented. "Like feelings and flashes from the past. Like you can't quite piece them together."
"That's exactly what I want it to look like," Voth wrote back. "Like an uncertain memory of home, when you can't tell what's real anymore."
Voth also sometimes chooses to keep parts of the images intact to add a focal point to her piece and give the collages even more of a nostalgic, yet somewhat eerie feeling.
And, of course, you don't have to cut your lines wavy to get an interesting final product. For this piece, Voth experimented with cutting straight sections of different thicknesses.
You can use Voth's technique to create custom wall art for your space — you can even use images that are personal to you for extra customization. Or, you can support the artist and shop Voth's original collages on her website.