The "Coming 2 America" Palace Is Actually Rick Ross's Real House
We
independently
select these products—if you buy from one of our links, we may earn a commission. All prices were accurate at the time of publishing.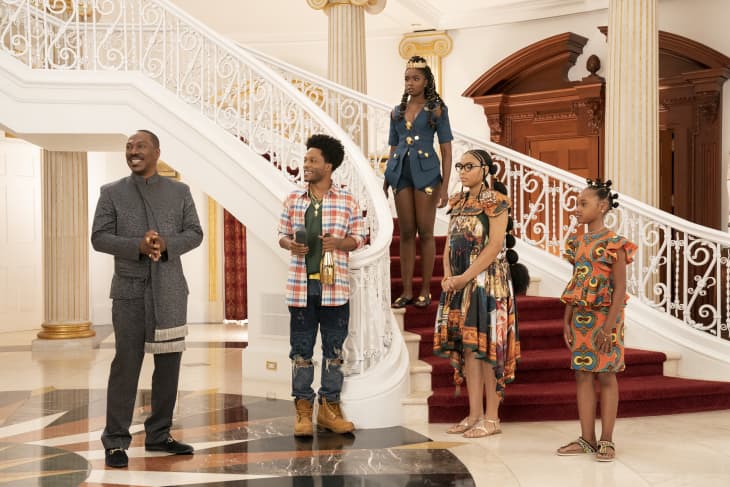 Zamunda is a lot closer than you think. According to production designer Jefferson Sage, who spearheaded the design for "Coming 2 America", the sequel to the classic '80s Eddie Murphy-led comedy, was "where do we find a house that had the scale of the possibilities for a very lavish palace?"
Sage spoke to Variety on March 5 about how he and his crew set the scene for the fictional African kingdom of Zamunda, where Murphy's Prince Akeem Joffer called home, and used Rick Ross's real-life home to do it.
The "Coming 2 America" crew didn't have to leave the U.S. to set up the land of Zamunda, and actually shot most of the Zamunda-based scenes in and around Atlanta, Georgia. This included both interior and exterior shots of the Zamundan palace.
Rapper Rick Ross, who is a big fan of the original 1988 "Coming to America", lent the cast and crew the keys to his 45,000 square-foot home in Fayetteville, Georgia. The home, which has 12 bedrooms and a dining room large enough to host 100 guests, was already opulent enough to play home to Prince Akeem, and the production team only had to make minimal changes to get the look they wanted.
"That entrance foyer with the big two-story interior and double-winding staircase was perfect," Sage told Variety. "Off of that, there were two beautiful big rooms with giant windows and 18-foot ceilings. We used five key spaces that we turned into Zamunda."
When external sets were needed for scenes that took place in the ballroom and throne room, Sage took inspiration from Ross's mansion and recreated the home's architectural details and color schemes on the sound stages.
Prince Akeem's lavish bedroom in the film is actually Ross's personal bedroom. And Ross was totally fine with the minor makeover the crew gave his home. "They changed the wallpaper in the dining room so I asked them to keep it up there," Ross said. "They also created that huge dining room table for a dining scene that seats 50-60 people, and they left that for me as a gift. It's humungous."