4 Container Garden Tips That'll Boost Your Curb Appeal for Spring
We independently select these products—if you buy from one of our links, we may earn a commission. All prices were accurate at the time of publishing.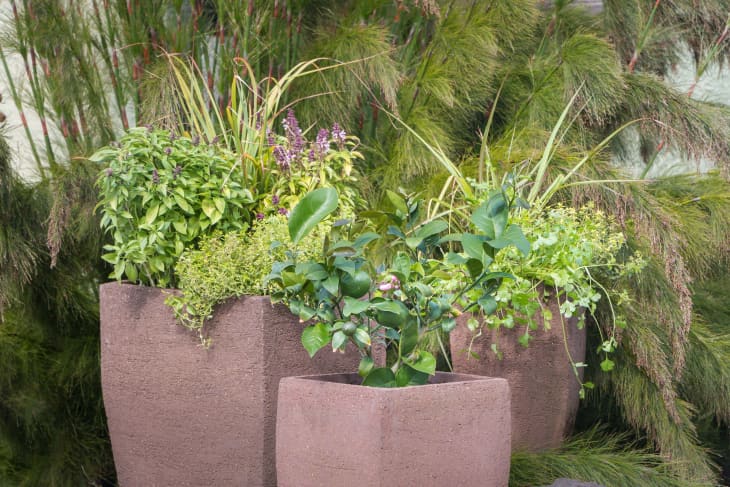 I get it — your garden probably isn't looking its best right now, so it's not exactly helping you sell your house. But there's another way to make your place feel greener without hiring a landscaper: You can plant a container garden to add color, texture, and interest to your yard — and lure potential buyers. 
Follow Topics for more like this
Follow for more stories like this
These portable gardens can be arranged on your front balcony, along a walkway, or on a backyard patio. Many plants, vegetables, herbs and ornamental grasses thrive in containers, and you can use branches, berries and other evergreen foliage to make gorgeous arrangements. Here, two gardening masters explain how to boost your curb appeal so potential buyers want to live in your house (or how you can spruce things up yourself for a brighter 2021 at home). The best part? You can take your containers with you if and when you move out.
Use the "thriller, filler, spiller" approach.
Container gardens are an easy, affordable way to liven up any outdoor space, and they offer a warm welcome straight to your front door, says garden designer Sue Goetz, owner of Creative Gardener in Tacoma, Washington, and author of "Complete Container Herb Gardening."
"Even if you live in a small space or condo with only a balcony or rooftop and no ground to plant in, you can still garden in containers, says Goetz.
"In large containers, use the 'thriller, filler, spiller' approach: One plant should be the showstopper, bright and bold. Low-growing greenery acts as filler, then, the spiller 'breaks' the edge of the container to provide a more natural look," he says.
Depending on your climate, blend different hardy, dwarf, evergreen plants in the container, so you don't have too many bare spaces in early spring months, says Goetz. 
"Walk through your garden: Look for winter blooming branches like witch hazel, flowering cherries, colorful branches like red twig dogwood, and bare rose branches with rose hips still attached," she says. "Dried flower heads from echinacea, hydrangeas, and alliums also add texture and beauty."
Choose a quality container.
Picking the right container is as important as choosing the right plants to grow in them. It's worth investing in durable pots that can withstand outdoor conditions, says Goetz. Then, take them with you when you move.
"I like terra cotta's natural look, and there are many lightweight plastic pottery that mimics the look of terra cotta, stone, or metal," she says.
Espiritu advises varying the size of containers, and staggering them so they look natural. Decorative mulch like mircobark and pebbles provide soil protection and look nice, he adds.
"I'm also a huge fan of grow bags, which is the subject of my next book, Grow Bag Gardening. They're lightweight fabric pots that come in a variety of sizes and colors, and allow for creative plantings without much effort," Espiritu says.
Move your containers around to find the proper sunlight exposure.
Group plants with the same light and water needs, placing taller plants toward the back or in the center of a container so they won't shade out low-growing ones, suggests Goetz. And don't be afraid to mix different types of foliage in one pot.
"Plants that are too similar in leaf shapes or sizes tend to blur together, and then the container has no interest or dimension," she explains. "Place plants with bold leaves next to delicate ones and linear leaf lines like ornamental grasses next to rounded large shapes like coral bells." 
Pay attention to what your plants require in terms of sun and shade, adds Espiritu, and watch how the sun moves over your property.
"The beauty of containers is their mobility, so adjust placement to get more or less sun," he says. "Check for hot spots, where a reflective wall or dark surface will create a hotter-than-normal microclimate that can cook sensitive plants."
Feed your container garden to keep it healthy.
When you first plant your container garden, good quality potting soil will provide enough nutrition to get started. However, when plants are actively growing, you'll need to give that soil a boost, says Espiritu.
"In container gardens, fertilizing is important because the plants can suck out the nutrients from the soil mix pretty quickly," he adds.
Choose a balanced general-purpose natural or organic-based product, available at any garden center. Espiritu likes using an organic granular fertilizer mixed into the planting hole when transplanting, and then a liquid organic fertilizer watered in once or twice a month to make sure the plants are getting enough food.
Lastly, remember that container gardens need watering more often than plants in the ground. Keep your watering can full and watch the offers roll in.