I Just Found the Tea Kettle of My Dreams — and It's Half the Price of Its Instagram-Famous Competitor
We
independently
select these products—if you buy from one of our links, we may earn a commission. All prices were accurate at the time of publishing.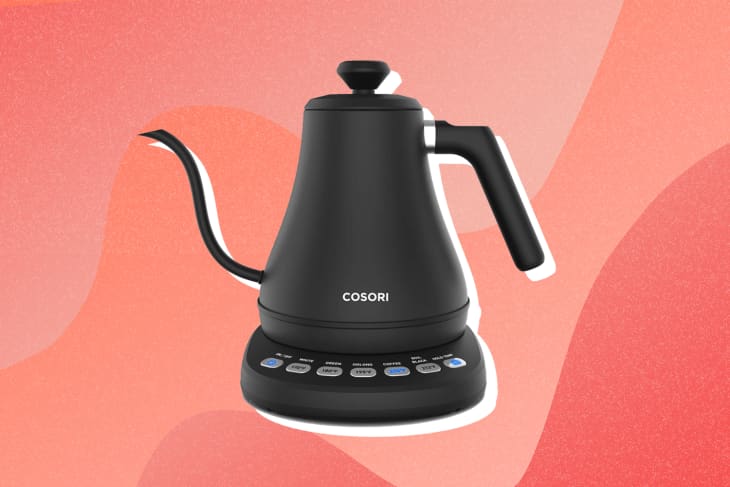 One fun fact about me that always seems to elicit a confused look from people is that I don't drink coffee. While I enjoy the taste, the inevitable jitters it gives me (alongside the dreaded 2 p.m. crash) make it something I approach like alcohol: I only drink it on an occasional basis. For me, the day hasn't started until I've brewed myself a nice cup of tea, which means that I've been through my fair share of tea kettles — both electric and stovetop. While on the hunt for a new electric kettle that met both my design and functionality needs, I discovered what I consider to be the holy grail of tea kettles: COSORI's Electric Gooseneck Kettle.
At first glance, it's easy to see why this kettle instantly caught my eye. With its slim gooseneck spout and sleek black design, it immediately reminded me of the (much pricier) Instagram-famous kettle that I originally had my eye on. Complete with a quick, three-minute boil time; a 100-percent food-grade stainless steel lining; and a wide opening that makes cleaning a breeze, this kettle was quickly moving to the top of my list. Upon closer inspection, I found out that this kettle has a design feature that would quickly set it apart: five tea-specific temperature presets.
When shopping for a new tea kettle, the most important thing I was looking for was one with a temperature control system. As someone who's been drinking tea my entire life, I'm privy to the fact that certain teas need to be heated to different temperatures to avoid burning the leaves and, thus, brewing a bitter cup. While I was completely content with finding a kettle that had a simple temperature dial, COSORI's takes it to the next level with its precise (and conveniently labeled) touch-control settings: white, green, oolong, black, and coffee (for the pour-over devotees). I've never clicked "add to cart" so fast in my life!
Coming in at just $70, this kettle costs less than half of the pricier lookalike that had been taking up room on my wishlist for much too long. With this gem, I'm able to get the most flavor out of my vast collection of tea while also decorating my countertop with the eye-catching kettle of my dreams. Whether or not the sight of this kettle will finally get people to stop asking me where on Earth I'm hiding my coffee pot is still up for discussion. In the meantime, I'll be brewing up a cuppa. Care to join?