This TikTok User Has a "Costco Door" in Their Pantry, and It's as Magical as it Sounds
We independently select these products—if you buy from one of our links, we may earn a commission. All prices were accurate at the time of publishing.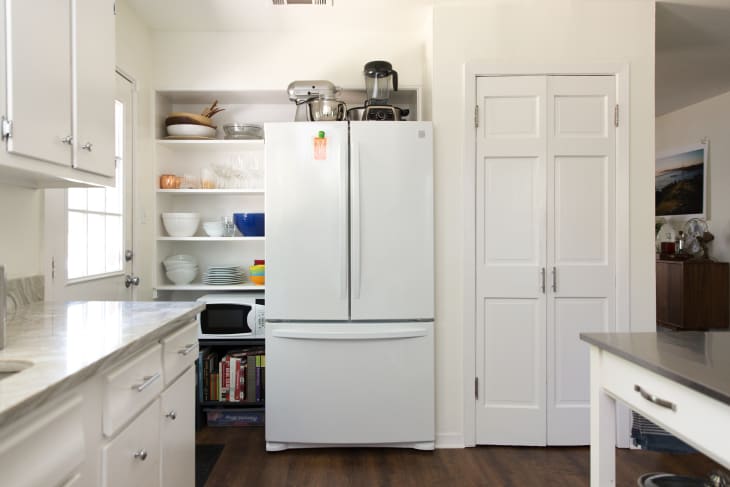 Prepare to be amazed. In an Aug. 16 TikTok video captioned, "Things in my kitchen, that just make sense!" TikTok user Kati Mason introduced her following to her "Costco door," and word on the viral video street is that Mason is a certified genius. Kitchen layout planning will never be the same again.
Follow Topics for more like this
Follow for more stories like this
Mason, who gained a following from showing off her incredible house—she has an enormous shower—recently shared a few of her favorite kitchen features that includes a Whirlpool ice maker, pull-out trash and recycling drawer, and her… wait for it… Costco door.
The video went viral, garnering over 107.5k likes in just about 24 hours. And people in the comments said it best: "WE NEED ANSWERS!!! WHATS A COSTCO DOOR," TikTok user Vianey Gonzalez commented. User Katie Jay responded, "Really glad this was the first comment because I had no idea what a Costco door was."
Well, Mason is more than happy to explain. "A door that connects from the garage to my pantry for easy unloading," she answered in a follow-up video.
As Mason further explained in the comments, it's inspection-approved with a threshold and has a lock so no intruders can enter the home via the Costco door. 
And no, it's not a dog door. In fact, it's the perfect height for unloading groceries into the house/hiding shopping from significant others (as Mason wrote in the comments she sometimes uses it for).
Well, that's it, folks. Every house with a garage attached to the kitchen simply must have a built-in Costco door. Work it into the codes, include it in necessary regulations, do what you must to get this change made. And give Mason an award of some sort—she deserves it.