This Portable Charging Station Solves One of My Most Annoying Problems—and It's Under $15
We independently select these products—if you buy from one of our links, we may earn a commission. All prices were accurate at the time of publishing.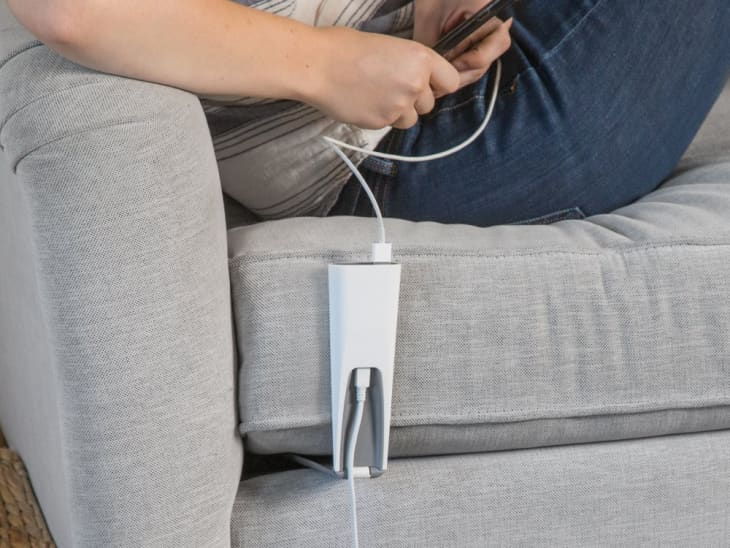 A scenario all too common: You're at home relaxing on the sofa, maybe watching TV, but definitely scrolling through your phone, and you get the dreaded "low battery alert." So you plug in your phone with your 3-, maybe 6-foot long cord, but it's just too short. And so you're awkwardly leaning, hunched over into some contortion that can't be good for your spine, trying to send a quick text or browse Instagram. Honestly, this was me yesterday.
Follow Topics for more like this
Follow for more stories like this
But today, all I can think about is this lifesaving phone charger called the Couchlet. It's from The Grommet, a site that specializes in quirky problem-solving products that you didn't know you needed. The Couchlet wedges right into the crevice between the couch cushions, so you no longer have to stretch or lean beyond your comfort zone. It has a 6-foot cable to reach those out of the way outlets (since NYC apartments never have enough outlets) and a fold-out leg for extra stability. It comes with two USB ports, so you can charge your phone and iPad, or maybe a friend's phone too, if you're feeling generous.
"Solved a problem I didn't even know I had," said one reviewer. "This is a simple, low-tech tool that keeps my tablet fired up and ready to go at my favorite spot on my couch. It stays put and is easily relocated."
Beyond the sofa, The Couchlet can be placed in between a mattress if you like to have your phone charging within easy reach when you sleep.
"This item has been a godsend, being I live in an older home with fewer outlets. It has gone with me on many trips also. Works just great!" someone else wrote.
"This is so convenient to use in the evenings as I watch TV," wrote another reviewer, who I definitely relate too. "I use my phone during the day for work so the battery is always low by the time I get home. So nice to have this charger close by, but out of sight."
So there you have it. Is it necessary? Absolutely not, but it just might make your life a little easier—and who doesn't want that?