4 Inspiring Icelandic Design Ideas to Instantly Cozy Up Your Home
We independently select these products—if you buy from one of our links, we may earn a commission. All prices were accurate at the time of publishing.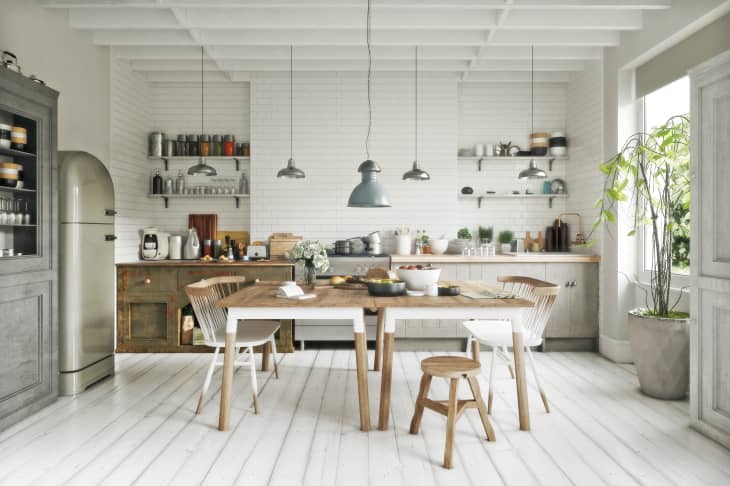 Thinking of Iceland likely conjures up visions of gorgeous landscapes, refreshing waterfalls, and colorful Northern Lights. Although those are correct assessments, the country is quickly becoming recognized for something other than its natural beauty: its innovative design. Icelandic designers are flourishing while expressing their unique style of blending traditional elements with modern touches.
Follow Topics for more like this
Follow for more stories like this
Each May, creative experts gather to present Iceland's best ideas at DesignMarch, an exhibition backed by notable Icelandic companies like Icelandair. "Although Iceland is influenced by Nordic and Scandinavian simplicity, there is still an element that makes Iceland different," says Icelandair's communication manager for North America, Michael Raucheisen. "We want to showcase and highlight that unique style and share what makes Iceland so special with the world."
Of course, you can always plan a bucket list flight to Iceland to attend DesignMarch next spring, and Raucheisen encourages it. "Anyone who is fascinated by creativity or design should come to our beautiful and otherworldly country to see what Iceland can inspire in you," he says. But in the meantime, I'm bringing some of Iceland's top design ideas stateside to inspire your home decor. Here are four design concepts straight from some of Iceland's leading designers. 
Include playful elements in your design.
Life is serious, but that doesn't mean your interior needs to remain somber. "Our favorite aspects of Icelandic design are spontaneity and playfulness," says Stúdíó Flétta, which consists of designers Birta Rós Brynjólfsdóttir and Hrefna Sigurðardóttir. The duo also says there are no rules or restrictions when creating a space using Iceland-centric principles, likening the style to the weather. "Icelandic design is ever-changing — one moment it's bright and colorful, and the next it's dark and moody."
Designer Hanna Dis Whitehead has been participating in DesignMarch since 2011 and agrees that adding a tongue-in-cheek element encapsulates the personality of the Icelandic people. "I think humor, a specific point of view, and a story are often intertwined with Icelandic design," she says. She cites designers from Iceland, such as Sigurjón Pálsson and Þorkell G. Guðmundsson as examples of embodying a playful style. Adding pieces that make you smile will make your home a happier place to spend time.
Blend the past with the future.
Combining pre-loved antiques with contemporary pieces adds an eclectic feel to a space, which Whitehead highlights in Icelandic motifs. "There is often a nod to the past mixed with the modern in the country's style," she says. "Teak furniture from the '60s and '70s, for example, is still very much appreciated." Whitehead also mentions that it's common to add splashes of IKEA along with modern Icelandic decorations. "Icelanders are quite good at mixing eclectic things from here and there and making their home very personal," she says.
Build sustainable collections with things you already own.
Icelanders are also known for being resourceful in designing their homes. The designers at Stúdíó Flétta encourage viewing what you already own, such as a colorful sweater or decorative milk carton, in a different light. "Collect one or all of these things, then take an old belt, scarf, or a used gift decoration and wrap everything together," they suggest. Showcasing an unexpected item or collection adds an element of surprise while highlighting that almost anything can be considered beautiful.
The concept of unexpected art also builds on Iceland's concentration on reducing waste, which is vital to Stúdíó Flétta. "We look for ways to use excess materials from local production or objects that otherwise would go to waste and turn them into something new and playful," they say. "We are constantly working to find new and innovative ways of using these materials with the goal to upcycle rather than downcycle." Fully utilizing materials and keeping them out of landfills perfectly encompasses design principles from Iceland.
Although hygge is associated with Scandinavia, Icelanders are also adept at adding comforting elements to their living spaces. After all, your dwelling should be a haven where you can relax. "Make your home into a cozy cave — a place that makes you feel shielded against the ever-changing weather outside," advises Whitehead. Many of Iceland's soft elements focus on the chilly weather, including the presence of afghans and light sources. "Candles, candleholders, and lighting are also essential as our winters are dark and long," adds Whitehead. "Every home must have at least one wool blanket as well."
Although you can add coziness with pillows and blankets, Whitehead also recommends bringing some of the outdoors in. "Many Icelanders love to collect stones," she says. "Don't be surprised to see maybe a small lava rock just casually hanging out on a shelf."