This Is the Easiest (and Cheapest!) Way Ever to Fake a Headboard in Your Bedroom
We independently select these products—if you buy from one of our links, we may earn a commission. All prices were accurate at the time of publishing.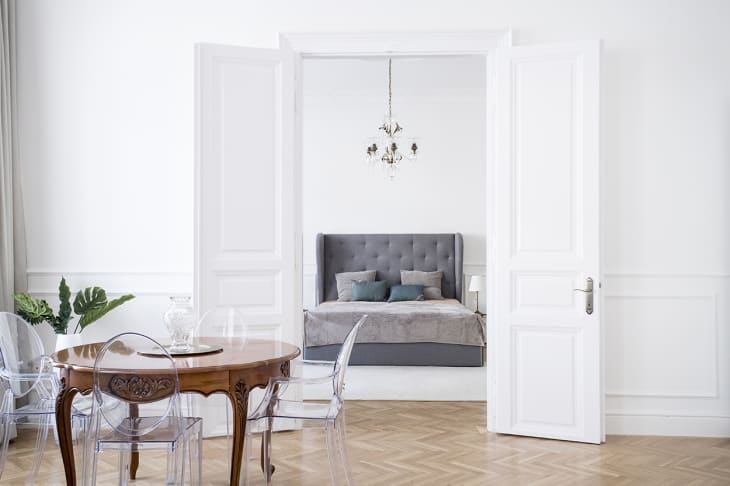 Plenty of home decor enthusiasts are guilty of buying things that are really pretty, but not so practical (myself included). Bedrooms are one of those spaces where comfort is key, so you really want to strike the perfect balance between style and function there. Choosing a headboard is an opportunity to make a big style statement, but you shouldn't have to sacrifice a good night's sleep or spend a ton of money in the process. So if you're out of ideas, sometimes the best thing to do is go back to the basics, just like Robyn Pope did in her sleep space.
Follow Topics for more like this
Follow for more stories like this
Pope and her husband are happy retirees living it up their minimalist-inspired, neutral home in Saint Augustine, Florida. After a hurricane flooded their neighborhood and hit their home, they were forced to rethink and redesign their space. "We used the flood as an opportunity to redesign this house for our lifestyle," Pope says. "We love the outdoors, and the beach is a quick bike ride away."
This couple's design style mirrors their lifestyle, which is simple but upbeat, and that ethos is reflected across their entire home. "Comfort is of the utmost importance for us as far as furniture goes," Pope says. That's why she and her husband really only buy things they need, and their bedroom is a perfect example of that. They have a bed big enough for two, small end tables on either side, and a makeshift headboard that's genius, wallet-friendly, and super-cozy: It's literally a cushion tacked up to the wall!
Instead of searching for a grand bed or a fancy headboard, Pope and her husband opted to keep it simple with just an inexpensive bed frame. While they aren't a requirement, headboards do help protect your head from bumping the wall in the middle of the night and can make reading in bed more comfortable, too. So Pope hung a large, padded cushion above the bed to serve this purpose, and it adds a lovely, homespun touch to the quiet but serene sleep space.
The best thing about this idea is that it really does work, whether you're on a budget or just prefer a simple space without all the extra decorative bells and whistles. If all you can afford at the moment is a bed platform but still want to add a little extra comfort above your bed for your head, an inexpensive, store-bough bench cushion would do the trick here (maybe you've even seen this bench cushion idea work with a towel bar and a banquette in a kitchen, too). If you're looking for a particular style and the pre-made options aren't doing it for you, this is an easy way to get creative and make something of your own on the cheap, too. Either way, this idea is fun and functional, and it's a perfect example of how doing less can actually be what's best, in a bedroom or beyond.