This Editor-Favorite Matcha Brand Just Launched a Giftable, Limited Edition Holiday Kit
We
independently
select these products—if you buy from one of our links, we may earn a commission. All prices were accurate at the time of publishing.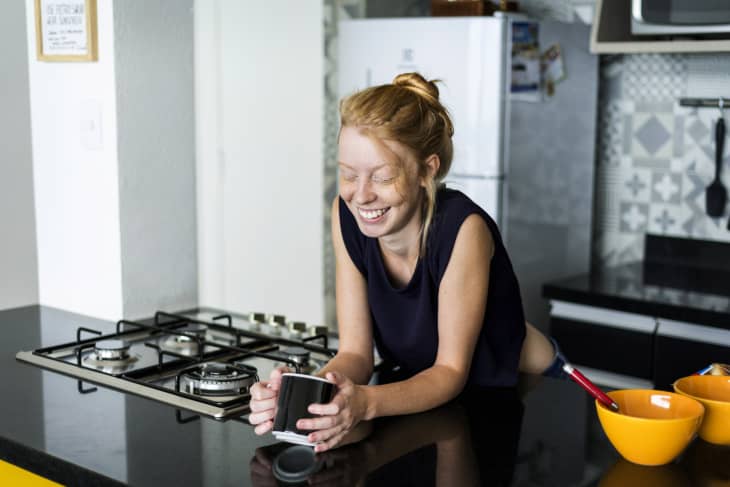 Going into the holiday season, smooth and creamy drinks are one of my ultimate comforts. I stock up on cocoa, tea, coffee, and matcha to get me through the cold months ahead. The Cuzen Matcha Maker happens to be an editor-favorite beverage, due to its ease of use and delicious quality. I had the opportunity to try out the Cuzen Matcha Maker Starter Kit awhile ago, and it's allowed me to try my hand at tasty matcha recipes from the comfort of my own home. Now that the holidays are almost here, they've released a limited edition Holiday Matcha Maker Starter Kit that's incredibly giftable!
Cuzen's Holiday Matcha Maker Starter Kit has all the fixings of the original Matcha Maker Starter Kit, but with a festive twist. Along with the Cuzen Matcha Maker and matcha leaf packets, the kit comes with beautiful furoshiki gift wrap, a personal note from you to the recipient, and optional Perfect Matcha Latte Cups. As an owner of a Cuzen Matcha Maker, I can say with full confidence that it's a great addition to diversify your at-home coffee or tea station. It's so easy to craft my own matcha beverages whenever I like, since the machine stores the leaves and allows you to set a preferred strength that suits your tastes.
The Cuzen Matcha Maker is a sleek and simple device that does almost all of the work for you. It comes with signature and premium matcha leaf packets that get poured inside, depending on the type of drink you want. The whisking cup locks in place and mixes the matcha shot for you while you wait, and beeps when it's done. You can drink it over ice, turn it into a latte, or try a new recipe altogether! When you want to change out the type of matcha leaf being used, the mill is quick to remove and empty so that you can swap from traditional matcha to matcha blends in no time. The machine is also super easy to clean since the cup and whisk can be rinsed and are top-rack dishwasher safe. Before having a Cuzen Matcha Maker, I drank coffee more often, but matcha has been a great alternative. It's also been fun to learn to make new drinks and test out matcha blends!
The Holiday Matcha Maker Starter Kit is only here for a limited time and comes with some awesome goodies that weren't available with my Starter Kit. The furoshiki gift wrap is reusable and multipurpose, and the Perfect Matcha Latte Cups truly complete the gift. I've got a lot of coffee, tea, and matcha lovers in my family. Some of our best times happen when someone powers up a drink machine and plays barista for a moment. They make such special shared moments, especially because we aren't always together, so it's been exciting to show off the Cuzen Matcha Maker and what it can do. I'm looking forward to the time we'll spend for the holidays, and maybe by then I'll have another recipe to try out!