Daring Grown Up Decorating Lessons to Steal from Kids' Rooms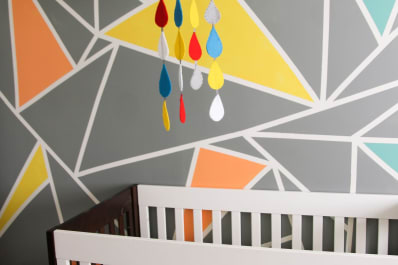 (Image credit: reader Holly)
These kids' rooms are packed with daring, colorful inspiration that you can use for the rest of your home (whether you live with kids or not!). Full of playful energy, these rooms and their decor styles prove that for big style statements, you don't always have to take design so seriously.
Go bold with painted-on graphics
You don't have to splurge on fancy wallpaper to add energy to a space. These kid's rooms prove that the combination of paint and some DIY skills can help you turn a basic room into a dynamic one.
(Image credit: Ryan Morrison )
---
(Image credit: Submitted by Garret)
It's totally cool to take a theme all the way
Though eclectic style has been popular for a few years now, don't let that stop you from rocking a decor theme in a room if that's what will make you happy. From going all out on ideas inspired by your favorite book, movie, album and more, remember that this is your home and you can totally go over-the-top if you want to.
(Image credit: Photos by Rob Grothe)
---
(Image credit: Submitted by Crystal )
Multiple patterns are better than one
Why have just one pattern when you can have many patterns? Or all the patterns? Don't think that just because you're an adult you need to have a "grown-up" house. You can totally have as many playful patterns as you want.
(Image credit: Submitted by Dominika)
---
Mix shapes
Emphasizing basic design elements like shape can seem like a kid thing to do—like you're trying to pepper a space with lessons from a kid's TV show. But mixing multiple geometric shapes in one room is bold and exciting—it surprises the eye and adds a vibrant element to a room's decor.
---
Mountain murals are definitely on trend
And, with good reason, because they're easy to do and the results look rad and nature-inspired.