How to Incorporate the Dark Academia Trend Into Your Home
We
independently
select these products—if you buy from one of our links, we may earn a commission. All prices were accurate at the time of publishing.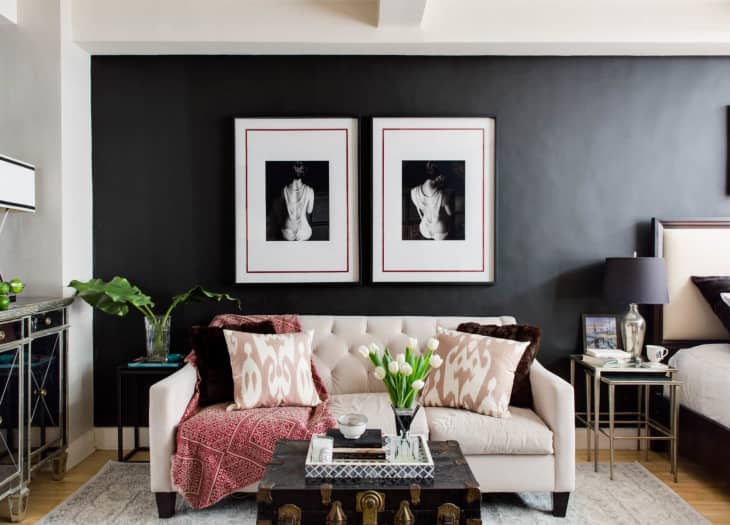 Dark walls, vintage furniture, and towering bookcases are, of course, nothing new, but you might not have heard of one of the latest trends that involves combining them all together. The dark academia social media aesthetic is set to creep into home design this year, with searches for "dark academia bedrooms" seeing a 5000 percent increase in searches over the last 12 months, while the style as a whole—"dark academia aesthetic"—is being searched for 81,000 times a month in the United States, according to Crafted Beds.
The trend is a celebration of dark and moody design, with black walls, velvet furniture, and vintage patterns at the forefront. A quick scroll through the 1.3 million-strong #darkacademia tag on Instagram shows the trend incorporated throughout home design, fashion, and popular culture—movies such as "Harry Potter", "Twilight", and "Dead Poets Society" are often associated with the dark academia aesthetic.
Below are four tips and tricks from Crafted Beds on how you can add a touch (or a lot) of dark academia style to your space.
"The base of the dark academia trend is its deep and shadowy colors. Think inky tones such as navy blue and black. These are the perfect shades for painting walls and paneling to draw the room in and create that gothic yet ever-so cozy vibe,"
"At the heart of this characterful style is a focus on literature, taking inspiration from the beautiful libraries of academic institutes. Displaying books, especially aged and bound ones, will add a somewhat cluttered yet cultured and well-read persona to your living room or bedroom. You can place these haphazardly on shelves and window sills or stack them on coffee tables for the desired effect,"
"Complete the aesthetic with a collection of sophisticated, quirky, and down-right questionable artwork adorning your wall space. Maximalism is key. From recreations of famous paintings and beautiful photographs to ethically-sourced entomology specimens and metal wall art, fill your walls with an array of framed and 3D pieces. Try to use dark, wooden, or golden frames in vintage or modern styles to complement each other,"
4. Rich textures and fabrics
"Luscious fabrics and eye-catching patterns add to the inviting vintage feel, creating the perfect place to snuggle up and read on winter evenings. Introduce velvet furnishings in rich colors to complement your dark walls, and accessorize them with chunky throws. Feature walls decorated with eccentric wallpaper will inject desirable color into the space for an eccentric appearance."