This U.K. Victorian Built in 1890 Has Been Transformed into a Dark, Moody, and Dramatic Home
We
independently
select these products—if you buy from one of our links, we may earn a commission. All prices were accurate at the time of publishing.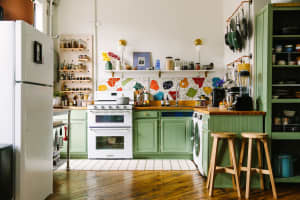 Can't-Miss House Tours Straight to Your Inbox
Keep up with our latest house tours each weekday with our House Tour of the Day newsletter
Stuart Eminson; his partner, Steve; and Rollo the dog have owned this U.K. house for 18 months: Our home is our absolute heart and soul. Steve, my partner, and I are both homebodies so it's really important to us to be in an environment that makes us feel good and happy.
The house itself was built in 1890 and so is full of Victorian charm. It's pretty modest really, at around 2000 square feet. There are four bedrooms, one of which we use as a home office/practice room (I'm a musician) and another solely as a dressing room.
It's our first home together. We bought it only 18 months ago, and it was love at first sight — mainly due to the lovely sociable kitchen area. The cabinets are painted oak, and are reclaimed from an old vicarage, so they are a little bit higgledy-piggledy, which we like.
In general the house was in pretty good condition — we've done nothing structural, just a lot of decorating on what was a blank canvas.
We've filled it with treasures from the past, and painted the rooms in darkish, moodier colours. I have a passion for all things vintage, and Steve is definitely on board, so that's the general vibe.
Our living room is the newest project, which we've almost finished. I suppose it's the room which is the most eclectic. Tall Victorian ceilings; a large, decorative fireplace; original floorboards, juxtaposed with an assortment of '60s and '70s glassware; a super-cool vintage rya rug; and, an amazing find, a mid-century red leather De Sede suite. All given an edge with colour drenching the whole room in a dark hue.
In the hallway, we've also combined some '60s/'70s vibes within the Victorian character of the house, but we've created a much more moody feel, particularly as you go up the staircase, to the small landing, where you are faced by a piece of art by @seedofmemoryart called "vampire." In fact, we commissioned Rebecca, the artist, to paint us a piece of Steve, Rollo (our dog), and myself, which is down in the hallway!
Upstairs, we have our main bedroom, a very warm and restful space; our dressing room, a soft, vintage feel; and our office, which is more whimsical and folksy.
It's a home to Steve, my partner, who works in fraud, but has a passion for drama and singing, our dog, Rollo, who we rescued after a terribly traumatic experience of being beaten up (4 years on and all is good — he's the cutest, softest, most adorable doggie!) and myself. I'm a professional musician; I play in leading orchestras and shows in the U.K. (clarinet is my instrument).
There's still lots to do, and it's ever-evolving, but we are absolutely loving making home together — here's to many years to come!
I've always been pretty creative, hence why I've never done anything other than music as a profession.
I suppose I used to express myself through clothes when I was younger, which has now transferred into home and decor. I am very passionate about it and absolutely love the final stages of transforming a space — in the form of titivating and faffing and moving or adding things until it sits just perfectly (to my eye). I'm pretty sure what you see in our home is definitely a reflection of our personalities.
Describe your home's style in five words or fewer: Quirky, restful, stylish, moody, eclectic.
What is your favorite room and why? My favourite room is generally always the most recently decorated one, so, right now, our living room. However, I have to say — our hallway, stairs, and landing is definitely up there. We put a lot of time and effort into deciding how we wanted it to look. It was bright and airy when we moved in — perfectly fine, and would probably have suited many people. But we were wanting to make a darker, moodier, more dramatic space. After all, it is the first "room" you walk into from the front door! We spent months choosing colours after many, many samples, and combinations. It's warm, darkish, quirky, a little bit of mid-century, a little bit of Victorian, and a whole lot of love.
What's the last thing you bought (or found!) for your home? The last thing we bought for our house is a lot of paint! Having just finished the living room, by colour drenching it in Farrow & Ball's "Hopper Head."
Some of my most favourite things we've bought, specifically for this house, is the '70s Murano glass chandelier from @vinestreetvintage — one of my favourite shops ever. They have the most incredible eye for glamorous vintage; I could easily buy everything they lay their hands on.
Another favourite place for vintage treasures is called @department_manchester — a seriously curated space of vintage and mid-century artefacts, some iconic, some rare, all beautiful.
Another super find was actually off eBay. A black-light poster from 1971 on Mylar gold foil of Miss Ultra Violet who was associated with Andy Warhol in the Factory. They made about a dozen of these kind of posters, all on silver foil, apart from this one in gold — so it's rare and definitely one-of-a-kind!
Any advice for creating a home you love? Get inspired! Interiors and people's homes are so accessible now with social media. You can easily check out different styles and see if anything fills you with excitement. What one loves, another doesn't, and that's why interiors are so diverse and interesting. Everybody is drawn to certain colours — think about your wardrobe attire and what you would wear. When you do come to a decision of what floats your boat, just go for it full hog and not half-heartedly. It'll look so much better if you fully embrace your ideas. Be fearless!