The Dated Garage Features Buyers Always Notice
We
independently
select these products—if you buy from one of our links, we may earn a commission. All prices were accurate at the time of publishing.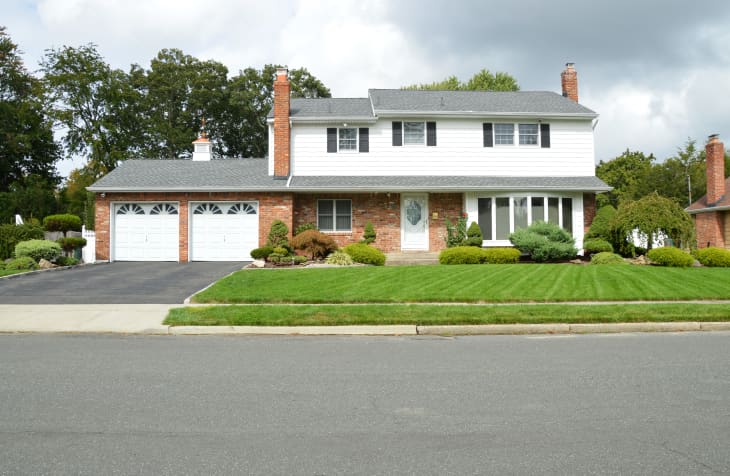 If you didn't think your garage mattered all that much, consider this: It's one of the first things you see each and every time you pull up to your house, points out Mark Washburn, a Realtor with Naples Condo Boutique in Florida.
"As a major part of your curb appeal, you want a garage door that provides a positive vibe rather than one that detracts from what may be an otherwise beautiful home," he says.

And as it turns out, prospective buyers have a lot of grievances about garages, especially when it comes to outdated features. 
Right away, buyers always notice dented, worn, or weathered doors on a garage, and interpret those blemishes as maintenance red flags, Washburn says. While punchy colors and contrasts are in, a garage with an unusual paint color or a mural painted on it tends to distract the majority of buyers, he says. 
Inside the garage, oil stains never make a good impression, Washburn says. You'll also want to have some good lighting if your home (and attached garage) are up for sale.

"No buyer wants to venture into a garage that evokes a haunted house with eerie darkness and looming shadows," he says. 
Savvy buyers will also try to open and close the garage door, and if they notice one that's rumbling or squeaking, it could be a potential deal-breaker, Washburn points out. (Consider that a reminder to lubricate your garage door!)
But the absolute biggest thing that buyers notice when it comes to garages is the lack of an automatic garage door opener, says Realtor Bethany Stalder, owner of Fidelis Property Group in the Washington, D.C. metro area. 

"Garages that don't have openers are generally opened by hand — you manually pull the garage door open and shut, so it's much less convenient for actually parking a car in it if you're exiting and entering multiple times a day," she says. "As a result, when we see these types of garages, the owners are usually only using them for storage."
Not only is it inconvenient to open and close a manual garage, but they tend to be easier to break in through and can also cause injuries, real estate experts say. 

Since almost every contemporary garage has an automatic opener, it's an immediate sign that the home is dated or older if it operates manually, Stalder says. In fact, these days, automatic openers can be connected to your car or an app for easy remote opening, which Stalder expects to become commonplace in the future. 
Updated garages (especially DIY upgrades) can also raise concerns for buyers. Many homeowners will do electrical work in their garage such as additional lighting or electrical outlets, points out John Myers, a real estate agent and broker with Myers & Myers Real Estate in Albuquerque, New Mexico. 

In most cases, the work was done by the homeowner and is not up to the National Electric Code, he says, causing problems during the home inspection. 

"We recommend the sellers take the time to bring electrical issues up to code before listing their houses for sale," he says. 

Some people also convert garages into living spaces, which can create a whole host of problems during the home inspection. "Garage space is really important to some buyers, and they will not even consider a home with converted garage space," Myers says.