The 3 Things You Need Before You Start Any Decluttering Project (Big or Small)
We independently select these products—if you buy from one of our links, we may earn a commission. All prices were accurate at the time of publishing.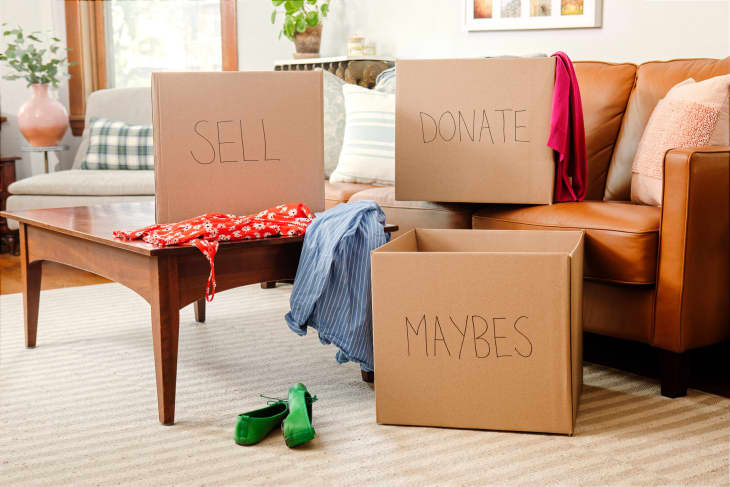 Apartment Therapy's Decluttering Cure is a free two-week decluttering program that'll help you achieve a tidier home. Sign up here and get all 14 assignments delivered to your inbox.
Decluttering can be both overwhelming and stressful. All of the little things that make up a home are there for a reason, right? Parting with them isn't always easy to do. And sometimes, those reasons no longer fit who you are today.
People all hold onto things for different purposes. Maybe it's an heirloom or keepsake that belonged to someone you love or a gift you have no use for but cherish just the same. Perhaps you think you may still want or need it again someday. No matter the reason, objects have power — good and bad — and assigning them too much of it can allow clutter to mount in your home. Today we're going to take one step closer to taking back some of that control.
The annual Decluttering Cure is your chance to identify the clutter-prone areas of your home and systematically begin to part with the things that no longer serve you. This 14-day free program is designed to help you conquer clutter with doable tasks targeted to different areas of your home. Together, we'll navigate each assignment and learn methods and strategies for decluttering. (With some very special guests helping us along the way.) If you haven't signed up yet, you can enter your email in the signup box below. 
You're going to let go of a lot of things in this process, so it's important that you ease into it with a solid foundation and plan of action.
Conquer Your Clutter in 14 Days with Our (Free!) Decluttering Cure Program
Join us (and some special guest experts) on a two-week journey to a tidier home.
Day 1: Set up your three outboxes — it's tradition!
We always like to kick off the Decluttering Cure with an easy task to help jumpstart your journey — setting up your three outboxes. These will serve as your catch-all for clutter, where you'll put aside items that you still need to think about without having to take action immediately. Anything can go into an outbox, and don't worry, it can (and should!) get messy. 
First, pick a spot where your outboxes will live during the Cure process. This should be a vacant space, such as an unoccupied closet, a spot in your garage, or an empty corner of your living room or bedroom, where the mess can sit and grow without getting in your way. It should be big enough to stash three separate outboxes. 
Also, these "boxes" can be whatever you have at home that works for you — a bin, basket, garbage bag, or old Amazon box — as long as you have three of them handy. Once you find a place for your outboxes, you're going to want to label them accordingly: 
"Donate": For things that are in good shape and worth donating or giving away to friends and family. 
"Maybes": For things that are still undecided, whether you're not sure if you want to part with them or find a new place for them. You can also set aside items to fix here too.
"Sell": For things that are in good condition and sellable. If you're not the selling type, you can skip this one.
Once all your outboxes have been set up and labeled — that's it! Don't worry about filling these boxes up just yet, we'll get there. You'll definitely begin to put them to work as we move through the Decluttering Cure (and you'll soon discover how easy it will be to do it).
Your outboxes can be anything you have on hand. Mine was a couple of extra, unused storage cubes and a huge Amazon box! What are your three outboxes? Tell us what you used in the comments.
More ways to participate in the Decluttering Cure:
The Cure Program is a tradition here at Apartment Therapy — it happens every January, April, and September. Click here to learn more about the year-round program and when to sign up.