5 Ways to Trick Yourself into Decluttering Your Home
We
independently
select these products—if you buy from one of our links, we may earn a commission. All prices were accurate at the time of publishing.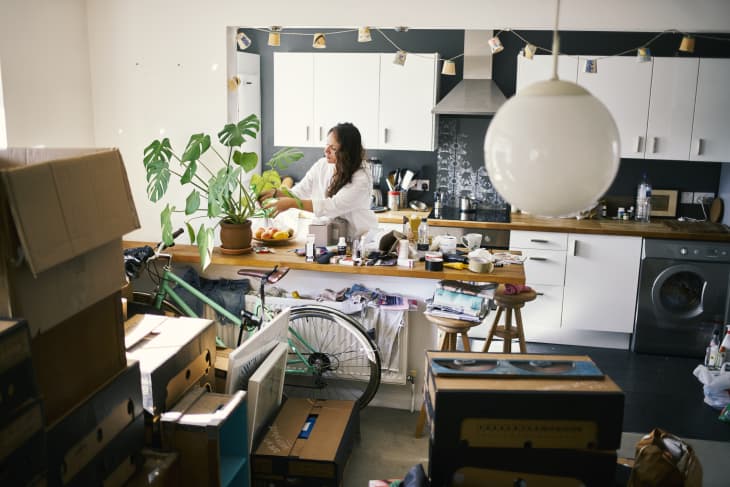 While there are some people for whom a good decluttering session sparks joy, there are other people who need to tricked into tackling that unwieldy pile of papers or that overstuffed front-hall closet. This post is for the latter.
Here are five decluttering hacks for people who don't like decluttering.
My favorite decluttering hack is to invite guests over. It can be for any reason, but knowing people are coming to the house is all the motivation I need to flatten all of my Amazon packaging, sort and fold the clean laundry, and go through the mail, so I'm confident there's some equivalent decluttering task that you will be inspired to do before your friends or family arrive.
P.S. If you have a junk room or closet where you usually throw all of this stuff when people are coming over, please don't do that this time. The whole point of this hack is to help you declutter, not help you create a nagging nightmare down the hall. 
My father served in the U.S. Air Force for most of my childhood, so we moved every third June, ready or not! Our home stayed clutter-free in large part because of these frequent PCSes (permanent change of station). There's nothing like having to wrap, pack, and label every little thing you own to make you want to burn it all in a dumpster!
Lucky for you, you probably don't have to move in the middle of your high school career like my sister and I did. But you can use this concept, i.e. pretend you're moving, to get rid of a lot of weird clutter you are holding on to. If you don't love an item enough to wrap it up and carry it up and down the stairs, it's time to say goodbye. 
Once it's been there for a long time, clutter can become invisible. The secret to making it more visible? Take a photo and then go into another room, or even another building, and pull up the photo on as large a screen as you can find. 
This removed point of view should give you a new perspective and increased objectivity. You may find yourself thinking, How did I not see this unsightly thing here before? and promptly getting rid of the offensive item.
Ask Your Type-A Friend to Help
If this photo trick feels too abstract for you, you may prefer this method: Ask your Type-A friend to help you declutter. You can tell them your objective and leave the room, or you can stay and help; either way, trust their fresh eyes.
If you're nervous that they'll get rid of something valuable, you can ask them to put anything they remove in a laundry basket for you to assess. It's up to you if you want to move these items to a storage area or get rid of them.
Turn Off Phone Notifications (and Set a Timer)
I like to believe I'm pretty focused and good at finishing what I start. But let me tell you something: I am no match for pretty pictures on Instagram or a juicy text from a friend! Turning off phone notifications helps me to do everything faster, including decluttering.
When you're not distracted, projects take so much less time than predicted. Don't believe me? Set a timer for 10-15 minutes and see how much you're able to get done.