How a Moving Expert Can Help You Declutter—Even If You're Staying Put
We
independently
select these products—if you buy from one of our links, we may earn a commission. All prices were accurate at the time of publishing.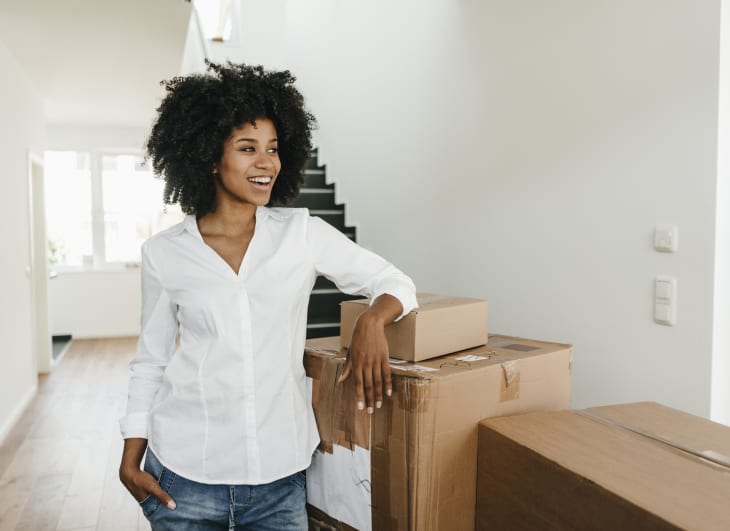 It's so easy to let our things pile up until moving day when you look around and can't believe how much stuff you have. But wouldn't it be far more productive to do regular "cleanse-outs," where you routinely look at your stuff with a critical eye? We posed that question to Ali Wenzke, a moving expert—she and her family have moved 10 times in 11 years in seven states around the U.S.—and author of the new book, "The Art of Happy Moving: How to Declutter, Pack, and Start Over While Maintaining Your Sanity and Finding Happiness." Here, Wenzke offers decluttering tips you can use right now—even if you aren't among the 35 million Americans who move every year.

AT: What's the first thing you should do before you start decluttering?

Wenzke: Consider your goals. My husband and I moved so often that decluttering became a way of life for our family. We have three kids and it was important to teach them how to declutter as a lifelong skill. For example, before each session, we write down our decluttering goals. I promise this will help you tackle that next bathroom cabinet. These can include:

Help people through donations
Organize our home so we feel calm and happy
Find the items we love so we can use them
Make money by selling or donating items
AT: What if you feel really close to your stuff and don't want to get rid of anything?

Wenzke: I got this idea of creating a 'store' to help you declutter. When I do this with my kids, I give them Post-It notes to 'buy' as many toys as they want. At first, it seems like they will 'purchase' every item but the kids begin to lose steam. In the end, dozens of toys are left behind and we donate the toys to a good cause.
This works for adults, too. So, instead of stacking your clothes into one large pile, make a store where you display pants, shirts, and sweaters in sub-categories. Then, choose which items you want to 'buy.' The reason this works is that you aren't asking yourself 'keep or donate?' Instead, you're reframing the question as 'Do I want to buy this?' If the answer is 'no,' it's time for the item to go.
AT: Does it help to choose specific charities for your donations?

Wenzke: Definitely. Before you start to declutter, find one or two local charities that would benefit from your shoes or your kitchen appliances. If you know that your belongings are going to a specific charity to help people in your community, it gives your decluttering session greater meaning. 

AT: What if so many other things seem way more fun than decluttering?

Wenzke: It's easy to procrastinate and to find excuses why you shouldn't declutter. To help you get into the right mindset, mark your calendar for a decluttering session. It could be monthly, seasonally, or annually. Pencil in whatever works for you. Then make it a tradition. For example, the first weekend in November is Donation Weekend at our house. That's the time that works best for our family because we have Halloween treats for motivation and we create a clean slate before the holidays. Because it's an annual tradition, the whole family is mentally and emotionally prepared to set aside that weekend to declutter and to help others with our donated items.

This interview has been edited and condensed for clarity.
More great Real Estate reads: