Design Blogger Challenge: Vote Now for Your Favorite Room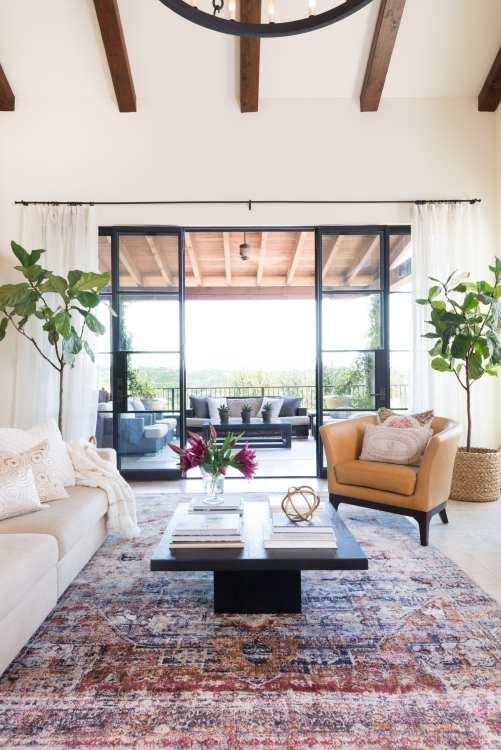 (Image credit: Camille Styles)
If the experts at Loloi Rugs have taught us anything, it's that a beautiful rug can seriously elevate your space and create an instantly chic and inviting home. Their new Anastasia Collection is inspired by high-end silk rugs, but has a cool, contemporary sensibility, and is much, much more affordable (and word is, they feel amazing).
To celebrate their new line, Loloi partnered with eight of our fave design bloggers. The design challenge? Each blogger had to create a beautiful room with Loloi's Anastasia as the dramatic centerpiece. Ready to see how they styled their personal space around these super lush rugs?
The Anastasia Collection is the latest offering from this family-owned rug company. After 12 months of design experimentation, Loloi found a way to mimic the look and feel of high-end, 100% silk rugs, but in a durable and stain-resistant fiber weave, and at a much friendlier price point. Which is your favorite?
(Image credit: Ashley Rose)
Ashley Rose
The Silver/Plum Rug brings a touch of tradition to this bright, mid-century modern room, adding some glamor to a charming room filled with neutrals.
Vote for Ashley Rose's Room >>
(Image credit: Kate Arends)
(Image credit: Kate Arends)
Kate Arends
Here, in Blue/Gold, the Anastasia lends a bit of timeless elegance to a simple living room already oozing with cool factor. Crisp white walls maintain a fresh backdrop for the room's mix of intricate patterns and soft colors.
(Image credit: Nicole Balch)
Nicole Balch
Bridging the traditional and the modern in this library/dining room, the Anastasia in Sand/Light Blue is a cool counterpart to the warm wood paneling. The texture and warmth from the rug helps balance the smooth, sleek lines of the table and chairs.
Vote for Nicole Balch's Room >>
(Image credit: Daniel Collopy)
Orlando Soria
The Ivory/Multi rug adds Old World texture to a modern and minimal dining room. The rug maintains the earthy, organic feel of the furnishings, but grounds the space and adds warmth.
Vote for Orlando Soria's Room >>
Julie Edwards
Another lesson in neutrals here: they don't have to be boring. This clean, simple study, aided by the Anastasia in Granite, is made luxe through a variety of textures.
Vote for Julie Edward's Room >>
(Image credit: Justina Blakeney)
(Image credit: Justin Blakeney)
Justina Blakeney
This bright, breezy living room has an ethereal feel, with its spectrum of indigo hues. And the Anastasia rug is at its beachiest in Blue/Mist: the blues are softer and more faded than in the rest of room, adding a sense of history and keeping things light.
Vote for Justina Blakeney's Room >>
(Image credit: Camille Styles)
Camille Styles
All neutrals? No problem. A vibrant rug with a ton of character, like the Anastasia in Slate/Multi, adds loads of charm to this living room, adding interest while maintaining its cool, sophisticated simplicity.
Vote for Camille Styles' Room >>
(Image credit: LaurenConrad.com)
LaurenConrad.Com
Here in Blue/Ivory, the rug breathes life into this modern space, softening the hard lines of the furniture. The metallics of the coffee table bring out the golden notes in the rug and leaves the room feeling homey and delightful.
Vote for LaurenConrad.com's Room >>

The thing is, you don't have to be a famous blogger to get your hands (or feet) on Loloi's bountiful stylings. You can purchased Loloi's rugs on sites like Wayfair and Rugs Direct, as well as retailers around the nation.
Vote for your favorite room by October 14th, and the winning design blogger will receive $1,000 towards a charity of their choosing!