The Best Place for Your Desk Might Be in a Controversial Part of Your Bedroom
We independently select these products—if you buy from one of our links, we may earn a commission. All prices were accurate at the time of publishing.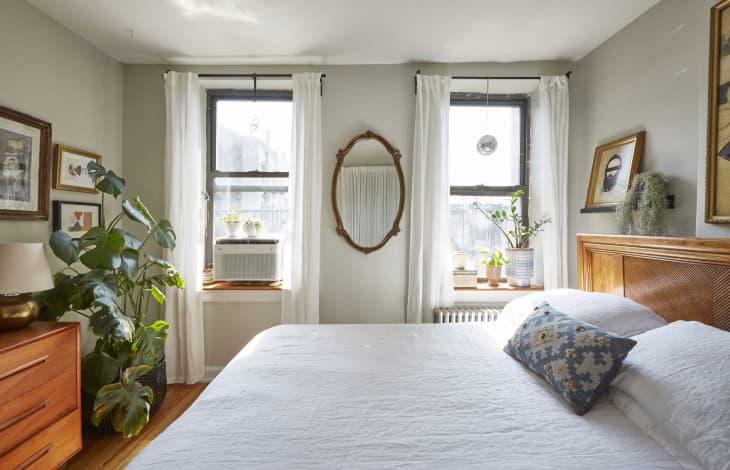 When decorating and planning the layout of a bedroom, nightstands or end tables are typically a staple piece of furniture. Whether you decide to go the traditional route with a table that has a drawer or mount a simple shelf to the wall, it truly is convenient to have a surface of some sort near your bed for a glass of water, book, or even a little bouquet. But what if I told you there's something even more functional to maximize that space next your bed, and it's more useful than you could even imagine? Well, Pratika Appaiah is here to oblige.
Follow Topics for more like this
Follow for more stories like this
Appaiah lives in a 475-square-foot apartment on the Lower East Side of New York City with her roommate, Mareya Stearns. Living small can be a challenge, but the two consider their apartment "the perfect little cozy plant oasis." Appaiah describes her design style as eclectic, bright, and cheerful with lots of tchotchkes, plants, and art. "I love a good balance of clean lines, playful objects, and vintage pieces," she says in her house tour. "My style is essentially just a collection of things I've found over the years that truly bring me joy."
Since both Appaiah and Stearns each work from home, they've tried to find balance between joy and functionality in their furnishings. "We have definitely made it a point to have multiple work-from-home spots in our apartment," she says. "Our DIY island/counter functions as a standing desk, and the armchair in front of our plant wall serves as the perfect backdrop for Zoom calls." Their most unique, stylish, work-from-home spot, though, has to be the wall-mounted shelf and desk combo right next to Appaiah's bed, which takes the place of a typical nightstand.
Few people would see that area next to the bed and think there'd be room to place an entire shelving unit with a desk. That's exactly what Appaiah did though, and it's even large enough to accommodate her computer monitor and a laptop. Because this piece has a tabletop and extra shelving, it can hold most of what a nightstand with a drawer or shelf can — maybe even more; you just have to keep your things a little more organized because they're all on display. While this piece does take up a fair amount of space, the airy style doesn't feel too visually heavy in the room, thanks to the open shelving and legs.
While the original desk came from Amazon, it's unfortunately currently sold out. There's a pretty similar alternative available in the same color that could serve the same function and only costs $100. This particular piece even comes with a metal pegboard organizer. The moral of this story: Don't discount a desk next to your bed. Even though experts may tell you not to have your work bedside, sometimes in a small apartment, it's the best solution and use of space.