Before & After: I Tried That $8 Jewelry Cleaning Pen Everyone On Amazon Loves—And Now I Love it Too
We
independently
select these products—if you buy from one of our links, we may earn a commission. All prices were accurate at the time of publishing.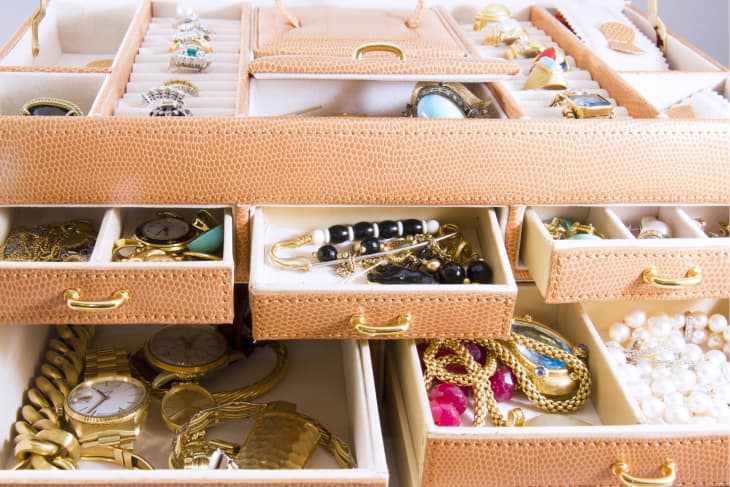 Like most people who get engaged, I couldn't stop staring at my engagement ring when it first landed on my hand. If you've ever seen a newly-engaged person in an elevator (or really under any type of fluorescent light) totally transfixed on their left hand, don't worry—this is normal. It's just so… sparkly.
It's been more than a year now since I've been engaged, and while I'm more excited than ever to marry my fiancé, I'm also not quite as star-struck every time I see my ring. Don't get me wrong, I still love it just as much as I did when I got it, but I'm not spending five minutes staring at it every time I'm in an elevator. I also forget to clean my ring regularly now (oops); I never can seem to find the right cleaning supplies or just put it off to another day.
So when I saw that Amazon was selling an $8 jewelry-cleaning pen from Connoisseurs called the Diamond Dazzle Stik that everyone seemed to love (it's holding up 4.5 stars with nearly 5,000 reviews), I tried it out. 
Luckily for me, the instructions are printed right on the pen (so they're impossible to forget) and the whole process of using the pen took approximately one minute. It's this easy: Simply take the cap off the brush, wet the bristles, twist the pen until the blue cleaning fluid comes out, and clean your jewelry. Then rinse and dry off, and behold the sparkle. 
The first time I used the pen and rinsed off the cleaning solution, I audibly said, "Wow," because the difference was just that noticeable. If you look at my before and after photos of my ring, the difference is obvious. However, experiencing the shine in real life is a totally different experience. The effect is astounding. 
And if you're not convinced yet, just take it from some of the commenters on the product's Amazon page. One customer wrote, "I worked several years in a fine jewelry store that sold this product. We used the dazzle stick from time to time to add a quick shine to merchandise that was just tried on and on days our jeweler was not there to professionally clean items. I was always impressed with the instant shine the diamond stick provided." 
See—even the professionals agree that this jewelry pen is the real deal. If my photos (and that jewelry pro's review) don't convince you, though, there are a lot of before and after photos on the Amazon page to click through and form your own opinion. Once you flip through a few (they're oddly satisfying to look at), I'd bet on the fact that you'll be tempted to purchase your own Diamond Dazzle Stik, too.