This Disney Fan Converts Their House into the Haunted Mansion Every Halloween
We
independently
select these products—if you buy from one of our links, we may earn a commission. All prices were accurate at the time of publishing.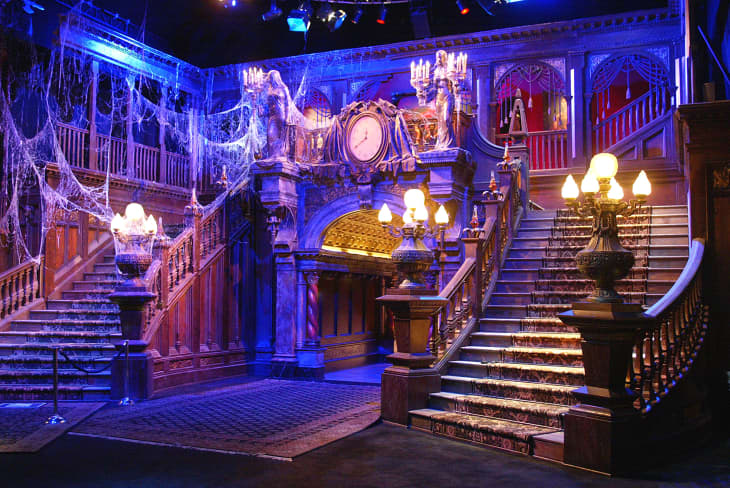 With most people's travel plans on hold for the foreseeable future (and with Disneyland still closed), Disney fans are surely missing a little bit of magic these days. Thankfully, there's no shortage of ways for fans to get creative and infuse some pixie dust into their daily routines, like this one fan who recreates the Haunted Mansion in the entryway of their home every year for Halloween, sharing tips and tricks on Reddit about the incredible transformation process.
Reddit user Quizchris shared a video of their DIY version of the classic dark ride, writing, "Every year my wife and I convert our house into The Haunted Mansion. Here's this year's display." Fans will spot so many instantly recognizable elements from the actual attraction, including the Haunted Mansion clock stuck on "13," terrifying stretching portraits from the ride's pre-show holding area, and Madame Leota herself glowing in her signature crystal ball.
Every detail looks straight out of the ride itself, with fans naturally awed by the process behind putting such an elaborate display together every year. Quizchris responded to comments across several threads, giving a glimpse behind how they recreate such a spooky, iconic ride in their home.
In one thread, they shared that the display is usually open to the public on Halloween, but won't be this year due to COVID safety concerns. Still, it's visible on the sidewalk for passersby, which means lucky trick-or-treaters can get a glimpse of a few grim, grinning ghosts as they hunt for candy.
In another thread, one commenter asked about the Victorian wallpaper and curtain display, with Quizchris revealing they bought it on Amazon by searching "Victorian wallpaper." (Genius!) They added, "I build 'set' walls and they stand in front of our real walls. This way I can run electricity behind them, put wallpaper or do whatever without damaging my regular walls. The walls are held together with grips and come apart and store in my garage." They use a lightform projector for the glowing images.
As for how they've acquired all these eerily lifelike props, Quizchris said that it's a year-round hunt for creepily old looking stuff. "Well I don't buy Halloween decorations per se…," they said, "I buy old looking things that look like they'd fit in an old house. I got to thrift shops and antique stores and I've been doing this for a few years now—the display just gets larger each year."
Still, one particularly spine-tingling prop has a unique backstory. When asked how they acquired an actual coffin, they wrote, "I bought it off of Craigslist and when the owners dropped it off at my house they asked me if I wanted to know where it came from. Of course I said sure! They said it was a prop in their old gay nightclub in Cocoa Beach, FL." The coffin is typically stored in their garage, though they noted that this year, they sprung for a storage unit, which feels like a better option. After all, you never know when 999 happy haunts might decide to materialize and stay for awhile…ghosts and skeletons do need a place to rest their weary bones.