TikTok's Smartest Holiday Decor Hack Will Have You Stocking Up on Pool Noodles in December
We
independently
select these products—if you buy from one of our links, we may earn a commission. All prices were accurate at the time of publishing.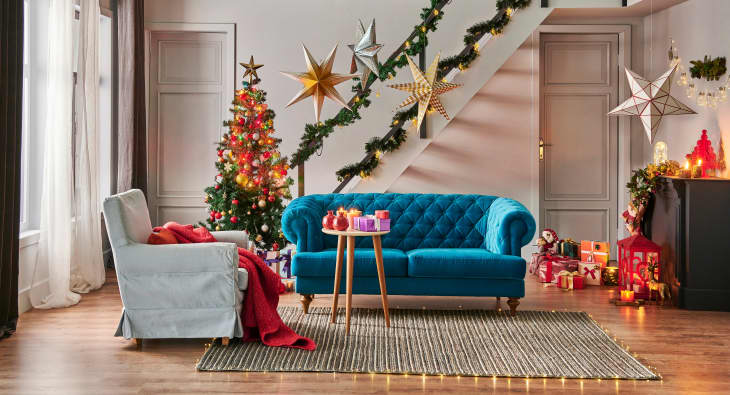 If wrapping garland and lights around your stair railing feels like too daunting a task this holiday season, don't fret. Interior design pro Shayna Alnwick recently shared the super-easy way to DIY stunning Christmas decor for your staircase, and it can be achieved with the help of some cheap summertime essentials you likely have stored away in your pool shed.
Alnwick showed followers how to DIY the look on TikTok, which involves cutting pool noodles down the center and wrapping them around the railing, securing the noodles with zip ties. She recommends buying boxes of cheap plastic ornaments in varying sizes, using a glue gun to secure them to the noodles. You'll start with the largest ornaments first, filling in gaps with smaller ornaments, adding extras like fake pine cones, greenery, and ribbon for more flair. 
When you're done, Alnwick notes you've got a "beautiful Christmas masterpiece, but the best part is, you can cut the zip ties, take it off in one piece, and apply it again for next year." She detailed the simple removal process in a follow-up video, showing how easy it is to save each piece and reuse it in subsequent years. Her videos quickly went viral, racking up millions of views and thousands of comments — although it seems not everyone was impressed by her unique creation.
She made several additional videos addressing critical comments on her post. In one video, Alnwick gamely demonstrated how to get up and down the stairs without use of the handrails, hilariously crawling up the stairs while sliding down them on her butt. In another, she joked that her grandparents would have to "stay upstairs until December 26th" since they can't safely use the railing. Of course, like any DIY craft, you'll only want to try it for yourself if it feels like a safe option for your household's needs.
Alnwick even addressed concerns about how to store her newly created holiday decor, jokingly placing it throughout her house: in her fridge, in her laundry machines, in her bathtub, above her toilet, and even in her dog's bed. Logistics aside, it certainly seems like an easy, affordable way to bring some holiday cheer into your home year after year.