This DIY Deviled Egg Mirror Is Going Viral Because It's Kitsch Perfection
We independently select these products—if you buy from one of our links, we may earn a commission. All prices were accurate at the time of publishing.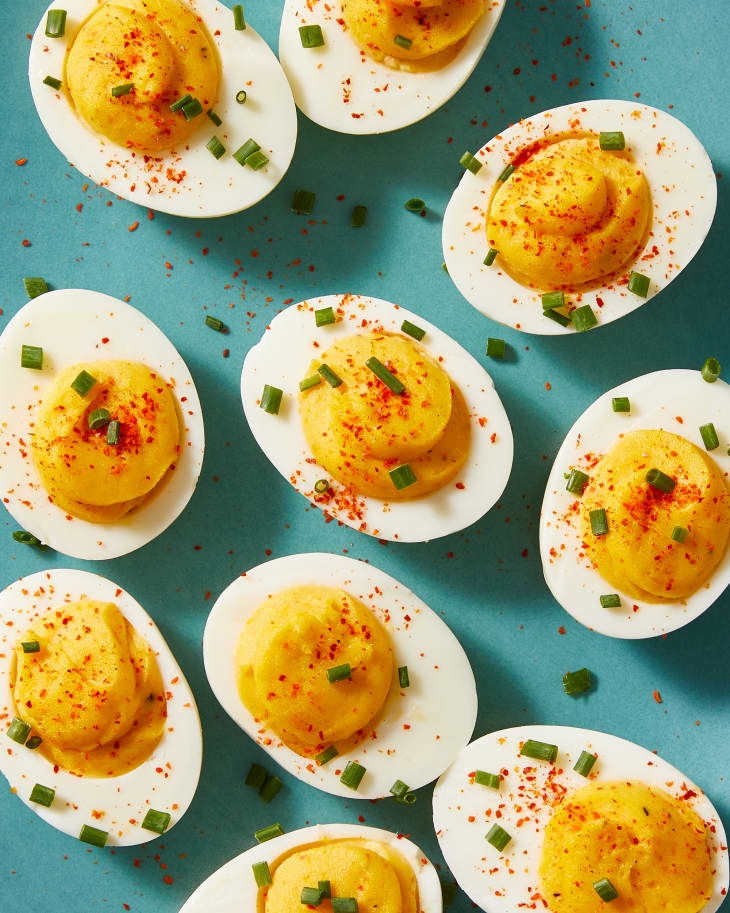 When TikTok user Ellie (@www.himbomingle.com) showed off her DIY deviled egg mirror in a January video, people immediately needed to see the production process in action. The final product just looked so real and perfect, and according to Ellie, it's definitely something everyone can make themselves at home. You just need a few plastic eggs, some spackle, and a plastic deviled egg tray to bring this creation to life.
Follow Topics for more like this
Follow for more stories like this
"I wanted all my eggs to be super uniform in shape and size so I found these plastic eggs online," Ellie said in a March follow-up explainer video. She said that she cut the eggs in half and filled them up with tinfoil that she glued in place (air-dry clay would work, too). 
"On top of the tinfoil, I did a layer of spackle," Ellie continued. "And I found that if you wait 10 [to] 20 minutes for the spackle to harden just enough, you can kind of pat it down to get rid of any texture and smooth it all out." You could also lightly sand the spackle once it's completely dry to make your egg's surface super smooth.
To get the whipped deviled yolk, Ellie mixed yellow paint into her spackle and then used a cake decorating kit to get that piped look. "In all honesty, this part is a little tricky," she said. "This did take me a few tries per egg."
The entire rest of the egg gets painted white and then the whole thing gets a coat of matte Mod Podge. While the Mod Podge is still wet, Ellie added some garnish to the yolk (bits of snipped faux greenery and real paprika).
Once all your eggs are dry, glue them down in a disposable plastic deviled egg tray and glue a craft store circular mirror at the center. Then, add some hanging hardware, and your appetizer wall art is complete!
You probably didn't know you needed a deviled egg mirror, but now, how can you live without one?