The 8 Costly DIY Mistakes Contractors Have To Fix Most Often
We independently select these products—if you buy from one of our links, we may earn a commission. All prices were accurate at the time of publishing.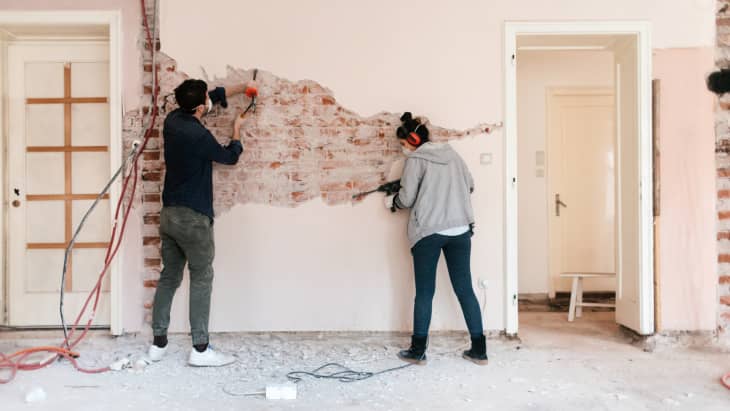 There are plenty of household projects that are perfectly suited for DIYers—even those with minimal construction know-how. With a little research and the right tools, things like IKEA hacks, gallery walls, and even more complex fixes like transforming a closet are completely doable. Conversely, there are some projects you'll obviously want to call a pro for—re-plumbing a bathroom or removing a load-bearing wall, for example. But then there's the gray area—projects that seem easy enough to tackle, but require an expert (unless you want to call them in later for the fix!). To avoid that costly mistake, contractors say the average homeowner should avoid the following frequently-flubbed projects. 
Malfunctioning sink pipes
Taking apart a pipe under the sink to remove a clog seems simple enough, since pipes are visible when you open the cabinet underneath. But it's difficult to find out exactly where the problem is unless you take the pipes apart—a very risky undertaking, says Doyle James, president of Mr. Rooter Plumbing, a Neighborly company. "Pipes are complex and very tricky to reassemble, particularly when they're in close proximity to other plumbing components and machinery, such as dishwashers or garbage disposals," James says. Unless you are certain about the location and specifics of the obstruction in question—and you have prior experience with dismantling and reassembling pipes—call a professional plumber for blocked pipe.
Using too much drain cleaner
While drain cleaner can work great for small clogs, it can cause significant damage to your pipes, including leaks, if you use too much of it, says Ryan Thompson, a residential plumber in Florida. "The best way to fix small clogs is by simply using a drain snake instead," says Thompson. That will help manually pull out any gunk that's causing obstructions.
Botched skim coating on walls or ceilings
Skim coating—or applying compound for a level finish—a wall or a ceiling sounds simple enough, but it's a technique that needs both precision and patience. And, if it's done incorrectly, it can leave the surface in worse shape than the original problem, says Dan Schaeffer, owner of Five Star Painting of Austin, a Neighborly company. A bad skim coat will be visible no matter how many coats of paint you add later, so invest the time and money to do it (or get it done) right.
Loose electrical connections
Homeowners trying to DIY their own electrical work—replacing light switches or light fixtures—often leave loose connections behind where they didn't screw in the wire's terminals tightly enough, says Benjamin Pelster, owner of Mr. Electric of Hillsboro, Oregon, a Neighborly company. And loose wiring connections aren't just potentially faulty—they can lead to overheating, causing the connection to fail or even the potential for a fire, he explains. You won't necessarily know this just from looking at an outlet. "I have been called many times to repair a power failure in a house, only to find an outlet with a poor connection," says Pelster. "From the face of the outlet, it looked like all was in good order.  But once I removed and exposed the device, I would find melted plastic on both the device and on the insulation of the wire, or even have seen it start to catch on fire." Unless you're experienced with electrical work, leave this one to the pros.
Wrongly installed dishwashers
A new dishwasher is a welcome addition to any home, but one with a complex setup—installing water and drainage lines, for example. Running these lines incorrectly can lead to dishes that are still dirty after a clean cycle, or a sink that backs up when the dishwasher's on. Leave this one to the experts, says James. Note that if you install a dishwasher yourself, it could also void the manufacturer's warranty on any future issues.
Incorrectly removed popcorn ceiling
Scraping a popcorn ceiling down yourself is not only a messy job—it can result in significant damage to the underlying drywall surface and could result in very expensive repair work if you don't do it correctly, says Schaeffer. "In some cases, popcorn removal might even disturb asbestos—a really harmful toxin that should never be worked on by someone who doesn't know what they are doing," he adds. Before beginning work on removing a popcorn ceiling, make sure to have it tested for asbestos (the same goes for painting a popcorn ceiling).
When replacing roof shingles, many people think you can just nail a shingle down anywhere and it will do the job, says Jason Joseph, owner of Matthew Lorand Roofing in Austin. But shingles are made to be installed on a bond strip, so that they seal properly to one another. "Misaligned and incorrect shingle installation creates a high risk of roofing leaks and shingles getting blown off the roof," says Joseph. "You end up expending your time and energy only to end up with worse water damage in your home and having to call a roofer anyway." Skip the hassle and call them in at the start—it's safer for you and for your home.
Plants put in the wrong location
This rookie mistake sounds innocent enough, but putting shrubs, bushes, and ivy in the wrong spot can do more than kill your plants. Some plants, such as ivies, can damage the walls of your home as they climb, and others with sturdy roots can push up your walkways, says master gardener Elle Meager. Before planting, figure out how big your selected species will get, and make sure to consult a local nursery as to whether the species is invasive in your area. Make sure to plant far enough away from your house that your siding will not risk damage.