"Hydro Dipping" Is the Simple DIY That Will Elevate Those Thrift Store Finds
We
independently
select these products—if you buy from one of our links, we may earn a commission. All prices were accurate at the time of publishing.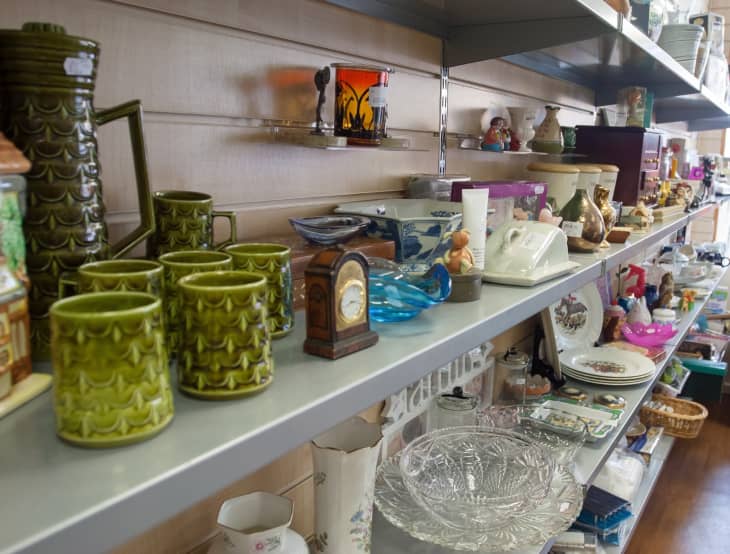 How many times have you found something at the thrift store that is almost perfect? Maybe it was a vase that had a super-cool shape, but the color was all wrong. Or maybe it was a figurine that was fun but the paint was completely damaged? One TikToker found a fun way to upgrade your thrift store finds to make them look more unique and fit your aesthetic. All you need is a bucket of water and some spray paint.
"Have you ever hydro dipped anything before?" TikTok user Lisa Burningham (@lisa_burningham) said in her January video. "We're going to hydro dip this urn I found at the thrift store for $5.99."
First, Lisa spray painted the urn white "so we have a neutral backdrop to start with." She then took a storage tote lined with a contractor's bag and filled the entire thing with water. Depending on the size of your item, you can go smaller or larger with your dip station.
"Then I took three spray paints, a white, a gold, and a silver, and I alternated spraying them into the water to create a bullseye effect," Lisa said.
Finally, it's time to dip. Just put your item right into the spray paint and swirl it around a bit in the water to make sure all of the paint clings. "It looks just like marble," Lisa said about her finished urn, and it really does.
Hydro dipping is one of those crafts that is endlessly customizable. Use whichever spray paint colors best fit your style and hydro dip any figurine or item you have. Ceramics and metal items with non-glossy finishes will most likely work best, but do some experimenting!
And when your hydro-dipped tchotchke is dry, spray it with a clear top coat to make sure that marbled effect doesn't go anywhere. If, all of the sudden, everything in your home is marbled, don't blame us. It's just that addicting.