6 DIYers Share Their Favorite Home Projects from 2021, from Upcycles to Room Redos
We independently select these products—if you buy from one of our links, we may earn a commission. All prices were accurate at the time of publishing.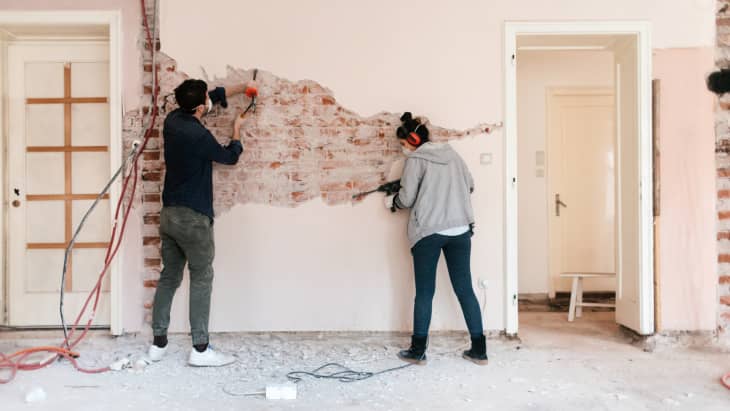 From room refreshes done to shake up surroundings to furniture redos done to circumvent global supply chain issues, 2021 was a big year for DIYs. So I was curious: For those who churn out tons of projects on a regular basis, which one stood out the most?
To get the answer, I checked in with six intrepid DIYers with plenty of feathers in their (handmade) caps to see which of their projects was the favorite DIY of the year. Unsurprisingly, their picks varied widely, including big projects (a multi-pronged entryway redo) and small ones (a wallpapered coffee table). But all of them amounted to more than just paint and tile: They represent love and care that these makers put into their home. Here, see their six picks for their best projects of the year — and get inspired to bring some DIY love into your own space.
Follow Topics for more like this
Follow for more stories like this
A Lovingly Remade Piece of Vintage Furniture
In early 2020, at only 35, blogger and styling expert Mary Everard faced an unexpected breast cancer diagnosis. Confronted with treatment and, in March 2020, the pandemic shutdowns, she found herself staring down unexpected extra hours at home.
To help find joy in the everyday while navigating this challenging time, Everard threw herself into the practice of antiquing and refinishing vintage furniture. She reflects, "The thought of reviving something tossed aside and the thrill of one day entertaining again when the world and my health started to come back was rejuvenating to me."
Fast forward a year later: Of all the projects she completed during 2021, one stands out as a favorite. It's an incredible mid-century piece with carved bamboo detailing. Recounting the project and its larger meaning, she says, "I found this beautiful Thomasville piece that I not only refinished but it now houses all of the treasured vintage finds that I collected during the pandemic and gave me hope for the future." 
A Large-Scale Fireplace Redo with Big Impact
Lauren Koster, of Lauren Koster Creative, is no stranger to DIY — but when it came time to choose her favorite from 2021, the decision was easy. "This fireplace makeover was my favorite!" she says. "It was a super-budget friendly fix that made a huge impact in brightening up the space." 
Koster's living room, with its soaring, angled ceiling, was overtaken by a large brick fireplace that felt too heavy and traditional for her neutral, textural style. To lighten the space, she recreated a stucco-like texture reaching the entire length of the ceiling-high fireplace. 
"I used very simple materials, just regular grout from Home Depot," Koster says. "Over two weekends, I applied it over the brick to hide the color, but keep a rich texture. For phase two, I used 12″x24" marble tiles to create the slab look (for less) for the hearth."
Now, it's an impressive architectural feature in the room and it give the entire space a warmth that blends with the natural tones of this cozy space.
A "For Now" Piece Turned into a Forever Piece
A $30 table off Facebook Marketplace could have been a "for now" piece only — something that would do the trick until it came time to sell it again and trade up. But Jessica Nickerson of House Homemade saw something more in this humble table. 
In her favorite DIY of the year, she found a simple style console table that was exactly the right height for her sofa, but just a tiny bit too narrow.
Nickerson stripped the wood and removed the original top, replacing it with a stain-grade project board from the hardware store. "This made it wider and in better proportion with our sofa," Nickerson says. "Then I curved the edges to give it a little more character." What was once just a stand-in is now one of Nickerson's favorite pieces in her home.
A Detailed-Filled Makeover of a Tiny Space
Leona Rosenblum and Garrett Berntsen — the couple behind a home restoration account called The Olde Standard — took on multiple DIYs this year in their new old home, with careful attention to blending historical accuracy and modern style. But, of everything they tackled, their favorite was an eclectic makeover of the vestibule. Working in a small space gave them the freedom to make bold choices in color and pattern, and the end result is striking.
To get started, they ripped out the old wall and floor tile, and completed an ambitious numbered design mosaic. They also replaced the baseboards and door casings, added picture frame molding, chair rail, and crown molding. In the process, they uncovered the house's secrets, and discovered a hidden transom, which is now refinished to (even better than) its original glory. Additionally, they took on the task of sourcing a hundred-year-old door and salvage hardware to replace a door that had been added years after the house was built. Bold wallpaper and a rich blue trim finished the space.
"This was our first big DIY, and the first time we attempted so many different types of improvements," Rosenblum says. "When we started the project, we had never demoed anything, we had never laid tile, we had never used a miter saw, we had never installed wallpaper. Over the roughly 10 months from when we removed the old tiles until we finished everything, we committed to learning all these things so that we could complete our vision."
The commitment to learning paid off, she says. "And now it's the only (tiniest) room in the house that feels perfect. We have all sorts of ambitions for the rest of the house, and now that we've completed this project, we know that with enough dedication and enough patience we'll make it all happen. Also it makes us smile every single time we come home!"
A High-End DIY Made from Extra Wallpaper
Mary Beth Torpey, an avid needlepointer and occasional DIYer, is currently tackling projects around her new home — and finding out that some items can do double duty. After overestimating a wallpaper order for her dining room, she ended up with an entire roll of navy grasscloth left over. 
Grasscloth tables have had their moment in the sun this year, with a price tag to match, but Torpey decided to put her extra wallpaper to work and found an affordable and clever alternative. She sourced a simple Ikea table on Craigslist, found a few reliable DIY tutorials (this one, this one, and this one, for reference), and stocked up on supplies.
Torpey says a measure/cut/perfect approach works best, and a spray adhesive is incredibly helpful — particularly if you're on a quick turnaround (say, you have friends coming over for cocktails in 20 minutes… hypothetically). Additionally, she says craft knives are critical to trim tricky spots.
"We moved into a new home in May, so we've been playing the game of putting the finishing touches into some new spaces," Torpey says. "I wanted a large cocktail table in the living room that also wasn't a distraction. This room is a main thoroughfare, so I didn't want any roadblocks, and the navy grasscloth wallpaper creates continuity from the dining room. Plus being able to create a custom look to add to the rest of the space — I love adding that touch!"
Facebook-Fueled Ingenuity Inspired by Shipping Delays
Shipping delays. The two words that have haunted all of us for the past two years, particularly those who were facing a major life change and needed a new piece of furniture. Leslie Jarrett, who had a new baby this year, was one of those people. Luckily, she's Facebook Marketplace-savvy and found a buffet table that she could envision as a changing table and dresser for her newborn son.
"This orangey, scratched up solid wood buffet had great bones, but it desperately needed to be refinished," Jarrett says. "I swapped the hardware out for label pulls to keep things organized and I added the artwork inside the doors to compliment the nursery theme."
Not only did the project help Jarrett avoid shipping delays, but it's a sustainable way to approach redecorating a space. "This beat-up buffet table was headed for the landfill until I decided to transform it into this perfect and unique changing table/dresser!" she says.