3 Documentaries to Stream Now That You've Binged "Tiger King"
We independently select these products—if you buy from one of our links, we may earn a commission. All prices were accurate at the time of publishing.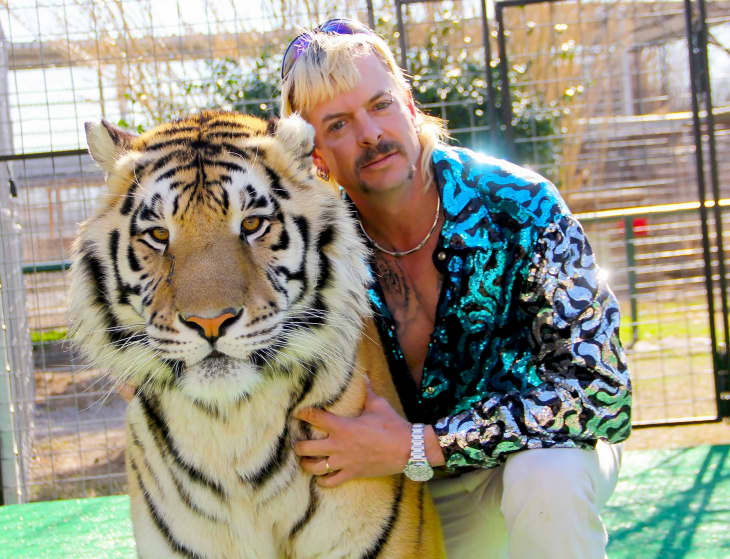 It certainly seems like everyone and their mother…and father and cousin and neighbor down the street has watched the mind-boggling story that is Netflix's "Tiger King: Murder, Mayhem, and Madness." The seven-part docuseries is about, well, so many things, but generally about roadside big cat zookeeper and everyone's future Halloween costume Joe Exotic, a character to say the extreme very least, and his feud with animal activist Carole Baskin that ended with Joe Exotic being convicted of attempting a murder-for-hire plot to kill Baskin.
If you haven't yet feasted your eyes upon "Tiger King," you should get on that if only to be able to have conversations with other people again. If you have watched it, you're probably jonesing for the next series to rock your world (or, at least distract you from the actual world). Nothing really compares to "Tiger King," but these three documentary films are engrossing, at times truly unbelievable, and very much worth a spot in your viewing queue. 
Follow Topics for more like this
Follow for more stories like this
This 2005 documentary by acclaimed director Werner Herzog was, like "Tiger King," quite zeigesty when it was initially released — if you have never gotten around to seeing it, now is the time. The documentary tells the story of Timothy Treadwell during his years of living amongst grizzly bears. Like Joe Exotic, Treadwell is truly an engaging and at times mystifying character who has an undying love for his wild animal of choice, even if the bears don't feel the same way. Herzog uses Treadwell's own footage of his experiences, as well as interviews with friends and experts in an attempt to understand Treadwell and his mission.
Streaming on Amazon Prime
Are you in need of another true crime story that seems too ridiculous to be true? One that just gets wilder and wilder as it goes along? Watch "Abducted in Plain Sight." The film tells the harrowing, almost impossible story of the abduction of a teenager, Jan Broberg Felt, in the 1970s by a family friend. The documentary includes recent interviews with Felt and her family, but the less you know going into it, the better. Do be warned though, much of the subject matter can be hard to watch at times, but if you're up for it, it is a mind-boggling 90-minute-ish ride.
Streaming on Netflix
This is a short, 40-minute 2017 doc, but it is totally engrossing and well-told and gave me actual, real-live chills on multiple occasions. It tells the story of Juan Catalan, a man accused of murder, whose only real alibi is that he attended an L.A. Dodgers game that same evening. Normally, it would be impossible to prove that he was in the crowd, but by chance, Larry David's HBO series "Curb Your Enthusiasm" just happened to be filming there that evening. The footage they shot, and some other completely coincidental circumstances held the key to helping a wrongfully-accused man find freedom.
Streaming on Netflix