8 Easy, Genius Hosting Tips that Expert Entertainer Dorinda Medley Swears By
We independently select these products—if you buy from one of our links, we may earn a commission. All prices were accurate at the time of publishing.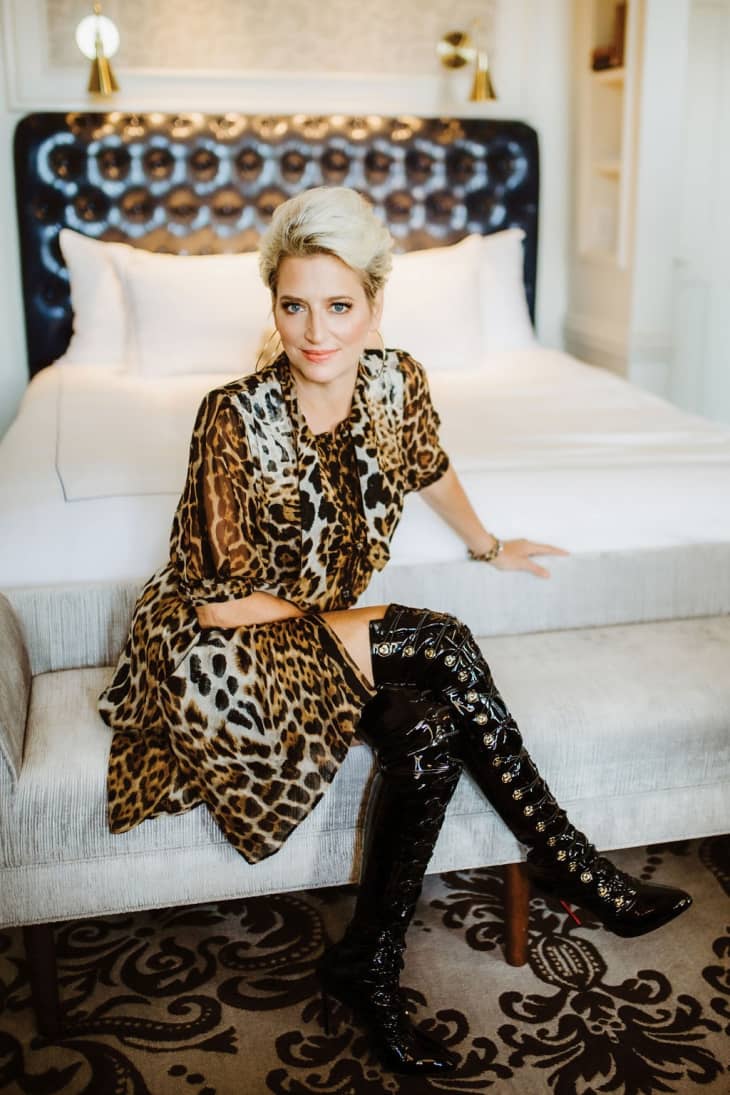 "Make it nice." If you're a fan of the "Real Housewives of New York," you'll instantly recognize it as former star Dorinda Medley's catchphrase. Medley is a capital-H host; during her six-season run on the show, she regularly invited the whole cast to her Berkshires compound, later dubbed Blue Stone Manor. And she really always made it nice.
Follow Topics for more like this
Follow for more stories like this
For big, decorating-heavy holidays like Halloween and Christmas, Medley would deck out nearly every room of the historic home with on-theme decorations — and might even have her sister dress up as Santa Claus to surprise everyone. Her efforts were often unappreciated, which led to her tearful outburst — "I cooked! I cleaned! I made it nice!" — after yet another meticulously planned event went off the rails. 
"I made it nice" resonated with fans… and even if you're not a Housewives person, you can still probably appreciate this three-word rule. Make it nice! Invite folks over, set the table, light a few candles, make people feel welcome and cozy and hosted. 
Now Medley's back with a new book, titled — you guessed it! — "Make It Nice." There's a lot I liked about the book: fascinating stories and genuine, hard-earned lessons from all the lives she had before her RHONY run, as well as an insider's perspective on one of my favorite reality shows. But my favorite thing about this book is that it's secretly a book about entertaining and hosting. In between stories about her life as a young wife and mother in NYC and then London (at one point, she casually mentions going to Buckingham Palace for a party!!!), Medley regularly slips in little tips for being a generous host who throws truly memorable get-togethers. I had a feeling she had even more to say about this topic than what was in the book; as someone who loves hosting (and a Dorinda fan), I was dying to know more.  
Last week, Medley and I chatted for nearly an hour via Zoom about all things entertaining. Here are some of the best tips she shared.  
When I asked Medley for her top tips for hosting and entertaining, this was her #1 suggestion. "Prepping is everything," Medley says. "I don't like when I go to dinner parties and someone answers the door and they're in chaos, so I try to do as much as I can possibly beforehand." She said if she's hosting a dinner party, she always opts to serve foods she can prep in advance, and she makes a point to light candles, get the music going, and an hour before guests arrive. (On that note, Medley says that setting the table — even just using colorful cloth napkins and putting grocery store flowers in a vase — is really important to her. "When you set a beautiful table, you're saying to your guests, 'You're special'" she says.)
Avoid Friday night hangouts if at all possible. 
"If people are going to do something on a weekend, I suggest not doing it on Friday night," Medley says. On Fridays, folks (including you, the host) are often just too tired from their week; they will come in fresher and livelier if you wait until Saturday to get together. (As a longtime believer in Friday night chores, I could not agree with this more!) 
Medley says if you're doing an all-weekend hangout (like hosting family from out of town, or heading to an Airbnb with your friends), try to keep the Friday night plans light and easy. "Let people settle in Friday night and be in their rooms — let them kind of explore, rest, relax, maybe get to know the other people in the house," she says. "Then by the time Saturday comes, you're ready." 
Develop a signature home scent.
"If I'm going to have people arrive at 6, at 5:00, I'm lighting all the candles — smell is so important," Medley says. "I love when people identify my house with a smell. I just love that. So I always use the same candle because they say, 'Oh my god, it smells like Blue Stone Manor.'" (If you're wondering what Blue Stone Manor Smells like, Medley says she's been using the Jo Malone lime basil and mandarin candle "for 100 years.") 
Know that it's OK to get prepared foods for a dinner party. 
In an era when everyone's regularly posting their weekend baking projects and perfectly-roast chickens to their Instagram Stories, it can be easy to forget this is an option… but there's really no shame in ordering from your favorite restaurant or turning to your grocery store's prepared food section. Medley said her late husband Richard loved a shredded chicken dish with rice and salad that she regularly "made" — but in reality, she was actually buying it from a nearby food truck. "And he'd always be like, 'Sweetie, this chicken is so delicious,'" she says, laughing — and she never told him the true source of the dish. "I still feel guilty when I go by. It's the one on 62nd and Madison. The guy does the best shredded chicken. So I would go and get like four huge styrofoam containers of the chicken, not the rice or anything, and I'd bring it home and put it on a beautiful platter with fresh parsley and a beautiful salad." 
Serve cheese after dinner, not before. 
Medley says she's not a huge fan of charcuterie boards as appetizers because people tend to fill up on them, which can detract from the main meal. But you can still offer a cheese spread later in the evening (maybe with some honey and fruit so it feels more dessert-like). "I like serving cheese after dinner," she says. "If you still want something, I put out a little cheese, then you can have a bit." 
As an alternative appetizer, Medley says she loves a good dip. "I make a fantastic white bean dip," she says. "It's so easy. It's literally a can of white beans and some olive oil, two cloves of garlic, a lot of sea salt, pepper. I swirl it up, I put it in a thing. And what's great about that is you can serve it with all fresh cut vegetables. So you're not overfilling people." 
Be sure to make a great playlist. 
"Music is a connecting thing," Medley says. "I mean, have you ever been at a party or at a dinner where it's all going, it's all rhythmic, and then the music goes off? It's like kind of like, What? Music's a very great connector and talking piece. I think music makes you feel a little sexier." She says French DJ Claude Challe, Australian band Rüfüs du Sol, and Spotify's Piano Yoga are some options she likes. "And don't make it too loud," she says. "I don't like when you go into someone's house and the music is so loud." 
Actually introduce people to each other. 
"Make sure you always do a proper introduction to each and every person because that's your job," Medley says. "It's your job to make people feel comfortable, cozy, and welcomed." Medley says that when a new guest arrives at her parties, she'll gets folks' attention and lets everyone know who the person — e.g., "Hey everyone, this is John, I know him from XYZ…" "People are very open to that because then they're like, 'Oh, hey, John, come over' — and then they can kind of incorporate into the school of fish," she says. And don't be shy or embarrassed about doing things like this — your guests are actually looking to you take control. "You've got to look like the hostess who knows what she's doing," Medley says. "If the host isn't confident, that's like a ship without a captain." 
Medley says when she lived in London, she was surprised by how often people simply have each other over for dinner or supper. "And that's when you really get to know each other," she says. "When I moved back to the States and I lived in New York, everybody ate out all the time. And no one really gets to know each other when you eat out. You all come, you sit in the same place, and you get up and leave." 
And don't let fears that you're not a good cook or that your home isn't "finished" enough for people to see it keep you from gathering. "People love to be in people's homes, because when you invite someone into your home, there's a trust level," Medley says. "It's OK if you make mistakes. It's OK if you burn the whole roast. Just have people over. You'd be surprised — every time I have someone over, especially up here, it's amazing how I just feel that little bit closer to them by the time they leave. Don't make it about the food — make it about you and your home."
"As I get older, I realize it's actually not about the food," she says. "It's actually about the people."