This TikToker Turned a Decorative Halloween Sign Into a Year-Round Statement Piece
We
independently
select these products—if you buy from one of our links, we may earn a commission. All prices were accurate at the time of publishing.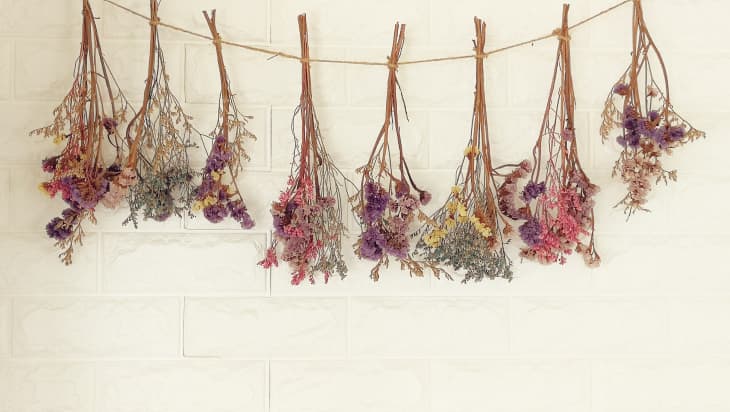 If you enjoy celebrating Halloween year-round, you're going to love one TikToker's impressive method of transforming a decorative "Beware" sign into "witchy floral art" using dried lavender, and it makes for the perfect addition to any goth decor scheme. In fact, all it takes is a few key tools to create this affordable piece of art.
TikTok user @folklvre is a fan of witchy decor, frequently showing off the DIY crafts and thrifted finds she conjures up on her account, which boasts more than 10,000 followers. She recently took a "Beware" wall sign from Michaels ($19.99) and a bundle of dried lavender she'd been gifted, sanding the sign to remove the "Beware" and polishing the frame. She then glued the lavender vertically across the sign and voilà. Her Halloween decor is now a bewitching year-round statement piece worthy that would fit right at home on any gothcore-inspired wall or mantle.
A commenter recommended that she glue a hook to the sign next time so that replacing the dried lavender is simple and easy.
The DIY sign isn't the only transformation @folklvre has worked her magic on. She previously turned the devilishly spooky "Tarot" reading wall sign ($19.99), also from Michaels, into an elegant display for dried roses, painting the base of the sign with a deep rich blue black paint before securing the roses to the base with glue. She also turned a spider web wreath ($5.99) into a unique seasonal photo holder by clipping photos all over the iron frame, getting the stamp of approval from the official Michaels TikTok account, as they commented: "Genius 👏" on her post.