This Laundry Expert Says You Can Wash Dry-Clean-Only Clothes at Home (Without a Kit!)
We independently select these products—if you buy from one of our links, we may earn a commission. All prices were accurate at the time of publishing.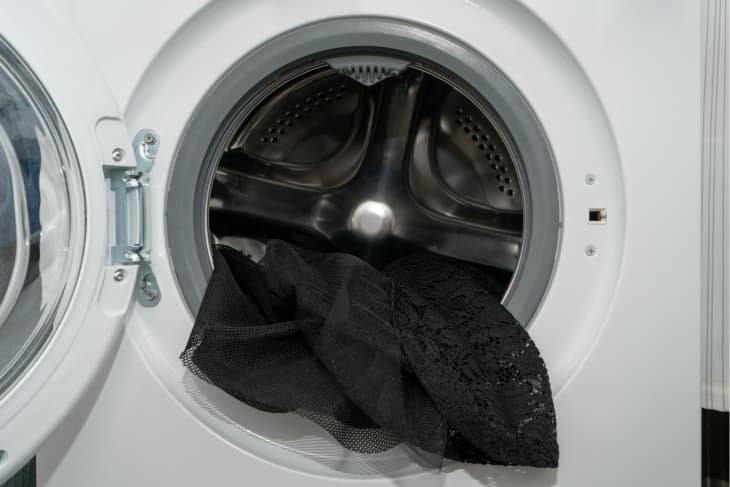 If the tag says "dry clean only" and you can't get to the dry cleaner for the indefinite future, what do you do? You have a few options. You can set the garments aside until the dry cleaner opens its doors. You can buy an at-home dry cleaning kit and bring the dry cleaner to you. Or, you can just roll the dice and attempt to wash your clothes at home.
Follow Topics for more like this
Follow for more stories like this
According to laundry expert Patric Richardson, owner of the Minneapolis-based boutique Mona Williams, there's no need to stress over your silk, acetate, velvet, or wool garments—if you do it right, you can easily wash these garments without going to the dry cleaner or resorting to an at-home kit. The key is to know how to take care of your "dry clean only" clothes, which surprisingly isn't that difficult of a feat.
"Dry cleaners are taught how to care for fabrics—it's not so much that they're taught how to do things you can't do," he says. "If you know how to wash properly and how to care for fabric, then you know what the dry cleaner knows."
The good news is, if you follow the right steps, you may never need to spend money on a dry cleaner again, even for your most temperamental clothes. Here's how Richardson recommends washing your dry-clean only clothes at home without a special dry clean kit.
What you'll need to "dry clean" clothes at home:
A mesh bag (if you're machine washing): A mesh bag is a laundry staple that keeps your delicate fabrics contained and helps prevent snags and stretching that can happen in the wash drum.
Gentle laundry soap (not laundry detergent): Use a gentle soap like these soap flakes, which get tossed into the wash drum if you're machine-washing, or the Laundress' Wool and Cashmere Shampoo, (safe for any fabric), which you can add to the detergent dispenser in your standard or HE machine. Richardson advises against traditional laundry detergent, which will be too harsh on your garments.
Stain remover, if applicable: If your dry-clean garment is stained, you'll want to pre-treat the stain. Richardson recommends Amodex Ink and Stain Remover, which is safe to use on all fabrics. Always make sure to spot test.
How to wash dry-clean only clothes in the laundry:
If you have access to a laundry machine with an express setting, here's how to do it:
If the piece is stained, apply stain remover to the affected area while it's dry.  
Place your soiled garment in a mesh bag. 
Use a gentle laundry soap, adding your soap to the detergent dispenser or directly to the drum of your washing machine as directed.
Run your washing machine's express cycle, which agitates your clothes for less time overall.
Hang the garment or lay flat to dry. 
Use a steamer to remove wrinkles if necessary. You'll also get bonus sanitizing effects from the steam!
How to hand wash dry-clean only clothes:
If you're only washing one piece, or if your washer doesn't have an express setting, you can also hand-wash your dirty, dry-clean only clothes in your kitchen sink:
Pre-treat stains with stain remover, if applicable. 
Fill your clean kitchen sink with warm water and add 2 to 3 pumps of soap — Richardson says you can even use foaming hand soap.
Leave the garment in the soapy water for up to 20 minutes, gently manipulating it with your hands every 3 to 4 minutes.
Pull the stopper, let the water run out, and fill the sink as full as you can with cool (not ice cold) water.
Swish the garment again. 
Full the stopper one last time and swish the garment in the water with your hands. 
Hang the garment to dry. 
Use a steamer to remove wrinkles if necessary.