5 Smart Tips for Anyone Doing Dry January, According to Mixologists
We
independently
select these products—if you buy from one of our links, we may earn a commission. All prices were accurate at the time of publishing.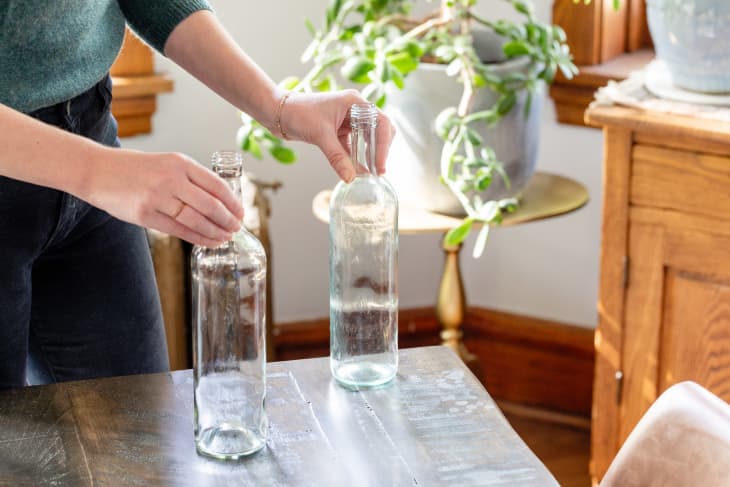 Maybe it was having one glass of champagne too many on New Year's Eve, or maybe you simply want to put your best foot forward in the new year. Whatever your reason, you might currently be doing Dry January, aka abstaining from alcohol for the month (or more).
The month may prove more difficult for some than others, especially now that we're spending more time at home, so you shouldn't make it any harder than it has to be. In fact, what if I told you that you could make Dry January as fun and fulfilling as possible? 
If you're observing Dry January, you most likely are seeking a positive change in your life. It's vital to set a foundation and a game plan for how you're going to tackle this new quest. Your first step: "Get all the alcohol out of sight," Mariama Bramble, a mixologist and the founder of Brownbelle, tells Apartment Therapy. Here's how she and other mixologists approach Dry January.
Keep your intentions in full view
As with any goal or resolution, you need to contemplate what you're hoping to gain from Dry January. Do you want to improve your health? Are you trying out a new lifestyle? Or, do you need to pursue sobriety for your physical and mental health? No matter the reason, "focus on what you're gaining," says Bramble. 
When Josh Gandee, a beverage director and bartender from Ohio, quit drinking three years ago, he entered the month with one mantra: "Just don't drink." By repeating the mantra, he found that after some time and hard work, that phrase became "I don't drink." 
It's also important to listen to your body, especially if you've been drinking more than usual lately. "Sometimes easing into Dry January is the way to go, if you have been drinking a lot, your body will feel that transition very, very acutely," Chelsea Gregoire, owner of Drinkable Genius, says. "It also helps you prepare mentally for that [Dry January]." Providing yourself grace during a tough life transition may make the change that much easier. 
To mocktail or not to mocktail?
The majority of mixologists we spoke with agree that mocktails can be a great replacement for alcoholic drinks. Gregoire recommends Julia Bainbridge's recently released book "Good Drinks," which includes only non-alcoholic beverages and navigates what makes a "good drink." "It's also a fun activity as she [Bainbridge] uses a great rating system throughout the book that explains their difficulty," they share. "You can start at any skill level that you feel comfortable with and work your way up from there." 
Do you like the taste of alcohol, or what makes a delicious cocktail? If you prefer the latter, Camille Wilson, founder of the Cocktail Snob, endorses experimenting with fresh herbs, including mint, rosemary, and thyme. Both Wilson and Gandee advocate for mixing juices with bubbly drinks like tonic water as an alternative. If you truly enjoy the taste of spirits, Wilson and Gregoire endorse non-alcoholic "spirits," like Seedlip and Proteau.
Bramble, however, feels quite differently, "They're like vegan 'meat' except possibly less satiating," she says. If you're all about the experience of drinking, Bramble suggests drinking a flavored sparkling water out of a red wine glass. "You can add a few citrus slices to it," if you're feeling extra fancy, she notes. 
Throw yourself into a new hobby
What's a better way to get through Dry January than picking up a spankin' new hobby? Distracting yourself with a new activity can be an awesome way to combat the urge to pour yourself an alcoholic drink. In fact, Bramble advises people to "pour into whatever else you do to relax." She also advocates for people to "make it a vibe so it feels more substantial. For example, if you love yoga, then treat yourself to a cute outfit, essential oils, mat spray, etc."
Maybe you're someone who doesn't necessarily need to relax, but needs to blow off steam. When Gandee quit drinking, he started running consistently, and found the discipline of running every day to be an effective way of combating the boredom that often drew him to drink. He also found satisfaction in seeing the growing number of logged runs, as he used the exercise training app Strava to track his run and log his miles. "You may not find a love for running the way that I did, but you may find something that occupies your mind in the times you are at home and think about having a drink out of boredom," he shares.
Participate with friends!
No one wants to tackle a goal or life change alone. (I still struggle to complete workouts without a buddy!) For Dry January, Bramble proposes identifying an "accountability partner so you can hype each other when you need it." 
An "accountability partner" doesn't need to be as serious as it sounds. Finding a friend to observe the month with you can make all the difference when planning virtual get-togethers that don't revolve around drinks. Wilson endorses activities like game night, trivia night, or even a movie night to make Dry January "fun and social." 
"It's always nice to have people in your corner who can support you in your lifestyle change—temporary or permanent," she adds.  
Support local bartenders, vendors, and farmers 
This may seem out of place in an article about Dry January, but it may be one that makes your observance all the more fulfilling. The service industry and local shops both took a big hit in 2020—and bartenders in particular faced harsh economic circumstances. "It's not possible for you to sit at a bar in most places right now, so bartenders really have lost almost everything," Gregoire says. "They're working, but they're not able to interact with people in the way they were before." 
If you're comfortable and have the means to do so, Gregoire recommends you "take the money that you would normally spend going out and buying a drink, and instead, message your favorite bartender or server and ask them for their Venmo." If you don't have a go-to hospitality person, they suggest buying a gift card from your favorite place to use when you're able to go out again, so "you can support them now and reap the benefits of that purchase later." 
They also advise people to be more intentional about supporting local businesses, especially local farmers as you experiment with non-alcoholic drinks at home. "When you're developing whatever hobbies you have for Dry January, or [just] from this point forward, remember to shop local, keep your dollar central, and just commit to keeping the people in your community afloat," they say.