These Dutch Cube Houses Are TikTok's Latest Obsession — Peek Inside
We independently select these products—if you buy from one of our links, we may earn a commission. All prices were accurate at the time of publishing.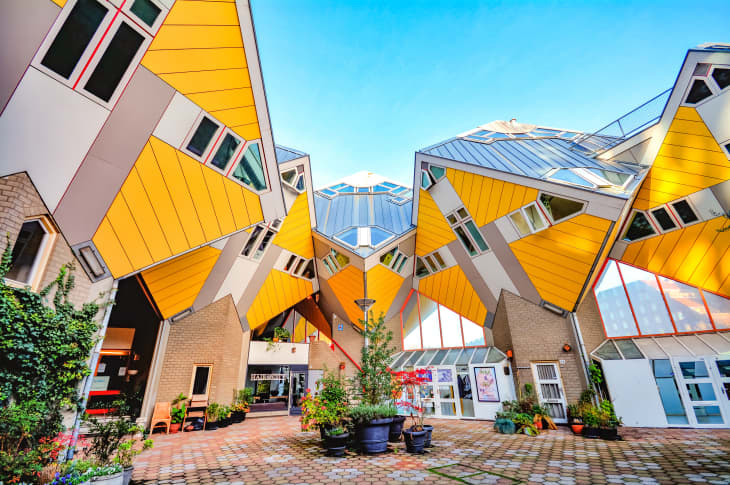 If you're itching to see some unique architecture in other cities, TikTok is offering up one major reason to put Rotterdam on your travel bucket list. The Dutch city is home to a residential development filled with cube houses, turning everything you thought you knew about structural engineering right on its head — literally.
With more than 744,000 views and counting on the viral video app, the vibrant yellow cube houses captivate tourists and locals alike, showcasing an innovative design housed in a picture-perfect colorful layout. Designed by Dutch architect Piet Blom in the late 1970s, the homes are tilted at a 45-degree angle to optimize living space, and it's obvious why they've become one of Rotterdam's biggest attractions for visitors from around the globe.
Follow Topics for more like this
Follow for more stories like this
Blom first brought his cube houses to the Dutch city of Helmond before they made their way to Rotterdam's city center. According to the Netherlands Board of Tourism and Conventions, the homes were given an asymmetrical design to resemble an "abstract forest," with each triangular roof representing a treetop. Built on concrete pillars with wooden framing, the residences are three-floors tall, featuring a ground floor entrance, an open kitchen and living space on the first floor, and two bedrooms and one bathroom on the second floor. Some of the homes feature a rooftop garden on the top floor. The cubic architecture means that all the walls are slanted, but it seems like even very tall folks can fit comfortably within the homes.
The homes have become so popular that one owner turned their home into the Show Cube Museum (Kijk-Kubus), a fully furnished cube house that welcomes guests to take a peek inside, as well as detailing the challenges for decorating and buying furniture for a structure without straight walls.
You can even stay in one of the cube houses, as there's a fully functional hostel with rooms available for as low as €28.25 (around $31 USD) per night. The neighborhood is right in the heart of Rotterdam, making it an ideal location for sightseeing, and the panoramic vista views from these charming cube houses are surely hard to beat.