This TikToker's "Earthship" Home Is Going Viral Because It's Both Beautiful and Incredibly Eco-Friendly
We independently select these products—if you buy from one of our links, we may earn a commission. All prices were accurate at the time of publishing.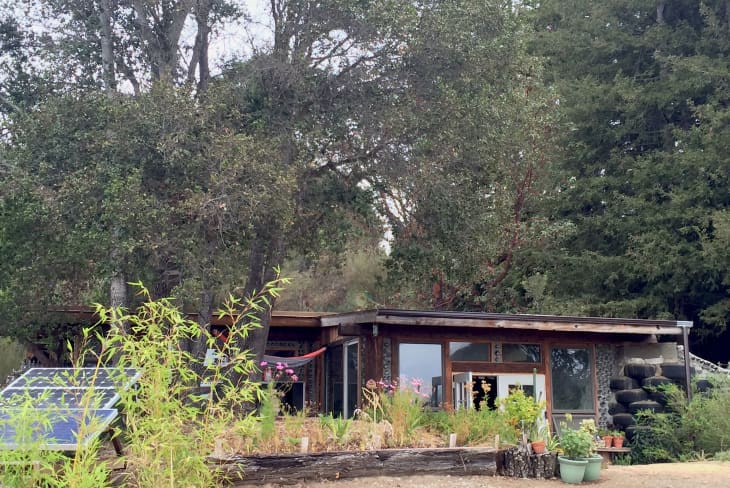 Living a more sustainable lifestyle is difficult when you're a homeowner. Gas, electricity, and water not only create larger carbon footprints, but it can be extremely expensive to make the switch to more sustainable utility alternatives. But one TikTok user just showed off her sustainable "Earthship" home that is completely off-grid and even heats and cools itself.
Follow Topics for more like this
Follow for more stories like this
"An Earthship is a passive solar self-sufficient bio home," Ari (@arianna_danielson) explained in a January 6 TikTok video. "It's made from basically all recycled materials, and you can see that the back wall is built right into the berm of the earth."
One of the most important ingredients in building this Earthship was actually recycled tires. They make up a large portion of the framework and inner walls. "All of these curved walls in the home are made from tires," Ari said. Once the framework was complete, the walls were then formed using a mix of earth and straw.
"This home is off-grid and runs just off the solar panels that are on the roof," Ari continued. "Earthships also recycle water and that goes to water all of our plant babies. We get our water from our own private well that is solar powered and pumps into a cistern into our home."
Ari, who bought the home back in October from the people who built it, also explained that Earthships have no heating and cooling system built in. "They regulate their own temperatures and they're really good at it." Because the house is built below the frost line and has windows that angle upward, the sun keeps the home extremely warm throughout the winter. And when summer comes around, the build-into blinds help keep the house cool.
"We do have a propane fireplace in the front of the home and then we have a pellet stove in the back of the home," Ari said. "Both are really efficient and clean. It's freezing outside and I haven't turned on any fireplaces and it's 71 [degrees] inside right now."
Though Earthships have been around for decades, they are becoming increasingly popular builds for those looking to live a greener life. There are even some companies that specialize in building Earthships from the ground up (literally).
Ari plans to make another video explaining how the house was purchased because she says, Earthships are supposedly notoriously difficult to buy. But with so many people desiring more sustainability — without forfeiting beautiful design — these kinds of homes deserve exposure and may just become more sought after by potential homeowners.