The Easy Curb Appeal Project with — Wait for It — a 484 Percent ROI
We
independently
select these products—if you buy from one of our links, we may earn a commission. All prices were accurate at the time of publishing.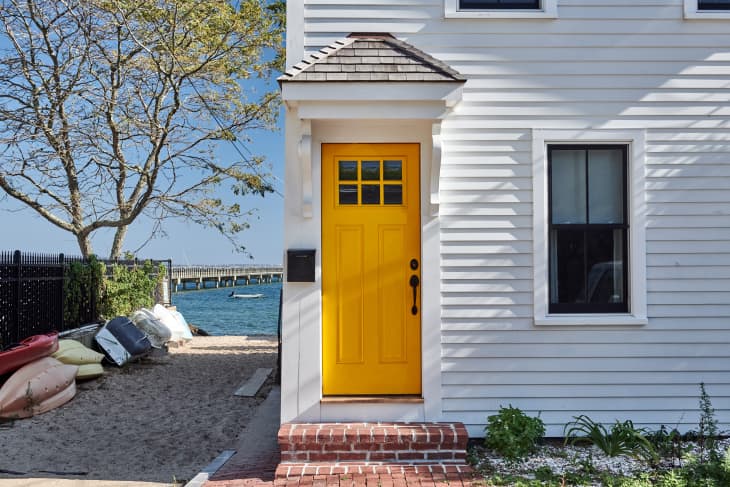 In a hot seller's market, it's tempting to forgo any and all improvements when listing your home. After all, with property inventory as low as it is, buyers are more willing to purchase homes that are in need of a little — or a lot — of TLC. But as the saying goes, "You've got to spend money to make money." And there's one small project that can make your investment back big time.
According to homeowner data firm Realm, revamping your front door can score a return on investment (ROI) of up to 484.55 percent. That's not a typo. That's nearly five times the dough you put into your door. Whether you redo the hardware, refresh the paint, or replace the whole door, you boost your curb appeal immensely. 
"The front door is a big part of the first impression of your home, your curb appeal," says Laura McGurk, a licensed real estate agent with Century 21 Breeden Realtors in Columbus, Indiana. "If it's clean, new, and fresh, buyers will assume the rest of the house is, too. Conversely, if your front door is a drab paint color scratched up from years of use and sticks when you try to open it, it's easy for a buyer to assume the rest of the house is tired as well."
According to Porch, a site that connects homeowners with contractors, the materials needed to paint a single door cost an average of $6.67. For DIY projects, you can't beat that budget. Even if you'd rather hire a pro to do it, the range in price for the work is $77.60 and $176.20. Like with many home improvement projects, the estimated price depends on a variety of factors, including the size of your door and the quality of paint you choose.
Traci, an Oregon homeowner, unwittingly set off a trend on her block when she repainted her front door as she was preparing to put it on the market. "I know it enhanced the curb appeal because the new buyer said so and then kept it [that way]," she says. 
Looking for inspiration on what color to paint your door? Traci advises selecting a "snappy color." Her choice was a shade of navy by the name of Thunder Blue, and it certainly had an impact. "The rest of the neighbors joined the fun soon after," she says. 
HomeAdvisor suggests going with these colors for a modern front door buyers will want to knock on: black, bright orange, eggplant, lime, taxi yellow, or turquoise. For a more traditional-styled home, HomeAdvisor says you can stick with natural wood tones.
If the paint is still looking pretty fresh on your door, here are some other ways to spruce up your front entrance for instant curb appeal without breaking the bank:
If you're looking for a simple yet effective way of sprucing up your home before you list it, there's an DIY opportunity literally knocking at your front door. In this market, you might even find a buyer before the paint dries.