The Lazy Homeowner's Fall Maintenance Guide for Indoors and Out
We
independently
select these products—if you buy from one of our links, we may earn a commission. All prices were accurate at the time of publishing.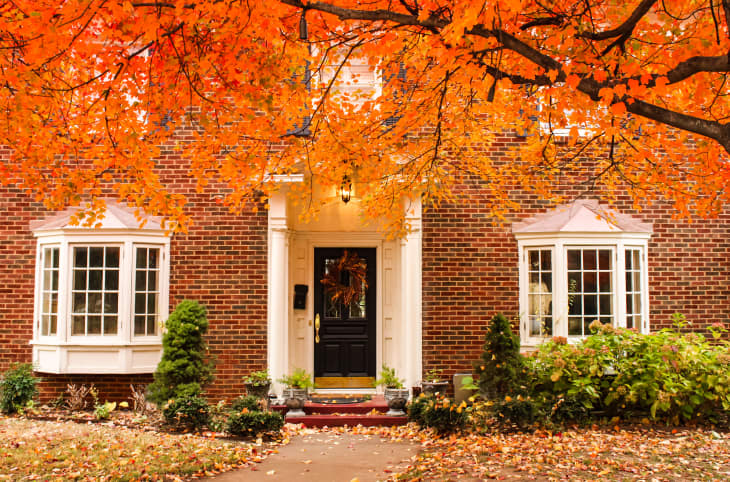 While you're pulling on flannel shirts and sipping on pumpkin-flavored everything, you might be tempted to slip completely into fall vibes and totally skip all the homeownership (or even home rentership) tasks you're told you need to do before winter. It's no surprise that you might be avoiding that to-do list when it can sometimes feel like it's a mile long. That's overwhelming! So what are weary homeowners like me — and possibly you — really supposed to do?
Although you could tackle an extensive list of items, concentrating your effort in a few areas can offer a sense of accomplishment while leaving your home in good working order before the first frost arrives. Apartment Therapy talked to the pros about a list of things to do so you can still live out the final carefree days of warmth without feeling overwhelmed by your end-of-summer checklist. Here are six areas to concentrate your efforts — if it's not on this list, you can give yourself permission to skip it (and use that time at the pumpkin patch instead).
Scan the outside of your home.
If you've taken a summer road trip, you've probably noticed cracks and potholes in road surfaces, many of which are due to fluctuating temperatures. Unfortunately, extreme heat and freezing can do the same to your foundation. General contractor Roman Smolevskiy suggests viewing this area and noting any cracks, no matter their size. "Even if you're not fixing them right away, being aware means you're prepared," he says.
While scanning your exterior, Gavin MacRae, the owner of a foundation repair company, also recommends looking for peeling paint or any other maintenance needs you discover. "Addressing these issues promptly can prevent bigger problems down the line," he adds. If you don't have time or means to fix issues immediately, snap photos on your smartphone. Then, you can assess if any are a cause for future concern if they worsen over the winter months.
Give your HVAC a once-over.
Depending on where you live, your air conditioning has likely been running all summer long. Although you'll have a bit of a respite during temperate, in-between fall days where you can open your windows and not run your HVAC unit, colder days are ahead. The end of summer is the ideal time to make sure your unit is prepared before you have to turn on the heat.
"Homeowners have busy lives, and while end-of-summer maintenance is crucial, it doesn't need to be overwhelming," says HVAC technician Josh Mitchell. Doing things like cleaning or swapping out air filters, removing debris from the area around the outside unit, and testing your thermostat will ease the seasonal transition. If you have doubts about how well your HVAC is functioning, now is the time to call a professional. Mitchell adds, "A professional can quickly identify any minor issues before they become major problems, ensuring your system is ready for the cooler months ahead."
Test windows and doors for drafts.
One surefire way to increase your heating and cooling bill is to have unwanted airflow around your windows and doors. Smolevskiy advises performing a quick test to detect any problems. "Light a candle and slowly move it around window and door frames," he suggests. "If the flame flickers, you've found a draft." Depending on the type of seals present in your home, you can use stick-on weather stripping or caulking for a quick solution to prevent air passage.
One resounding tip from multiple experts was to clean out gutters. Most homeowners are only concerned about clogged drains due to autumn's falling leaves, but debris can collect year-round. "If you live on a property with any type of mature vegetation, you almost certainly collect debris in your gutters throughout the year," reveals Joe Palumbo, president of an ice dam removal company. 
If water can't flow due to sticks, pine needles, or other debris, it can cause leaks. A more dangerous problem, especially in northern states, is ice dams. These solid blocks of ice increase in size and weigh down your gutters and roof, causing extreme damage if not dealt with properly. Of course, clogged gutters can also cause issues when spring showers arrive and water can't drain properly.
Protect your outdoor furniture and grill.
Whether you've invested in outdoor furniture or purchased a new grill last season, exposing summertime accessories to cold weather all winter shortens their longevity. So, make time to do a quick cleanup and put these items away. "Properly store or cover outdoor furniture, grills, and other equipment to prolong their lifespan," recommends MacRae. If you're an especially laidback homeowner, he suggests using low-effort storage solutions, such as purchasing inexpensive stacking chairs or quality furniture covers, to protect items from the elements. 
As the founder of a moving company, Ryan Carrigan has assisted many homeowners in streamlining time-sensitive chores. "Instead of an exhaustive overhaul on your outdoor grill, again, it's the little things that count," he says. Carrigan advises brushing the grates, cleaning the grease trays, and wiping down the exterior after your last barbecue of the season. He adds, "Making this a ritualistic last grilling of the summer not only can create a fun event, but also helps get this task knocked out early on."
Clean and adjust your ceiling fans.
How many folks forget to do this? I'm one to happily ignore my ceiling fan — besides using the on and off switch — until I notice the furry, dust-laden creature hovering above. Yikes! If you're like me and tend to keep the fan churning all summer, it's time to turn it off, clean, and redirect the blades. Electrician and handyman David Walter says ceiling fans should spin clockwise in summer and counter-clockwise in the winter. Plus, changing the direction of the fan blades is the ultimate easy task. "If your fans are adjustable, you'll see a small switch on the base of the fan," says Walter. "All you need to do is move it in the other direction." Voila! It's a simple, doable project to help even the laziest of homeowners feel a slight sense of accomplishment.