5 Easy Ways to Make Your Work-From-Home Setup More Eco-Friendly, According to Experts
We independently select these products—if you buy from one of our links, we may earn a commission. All prices were accurate at the time of publishing.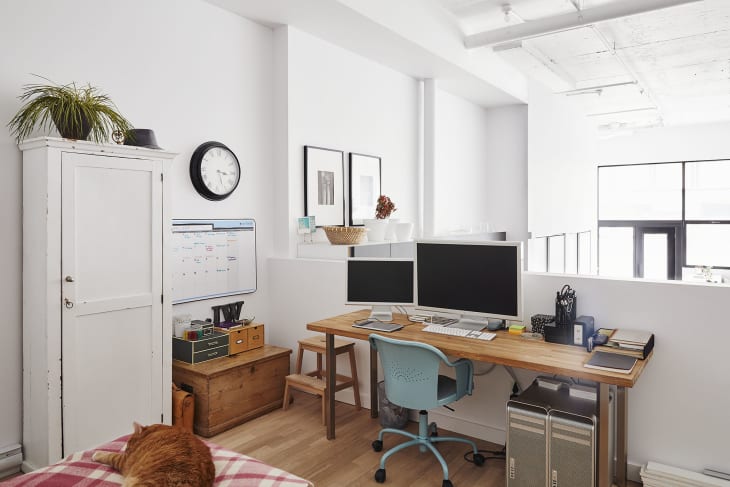 There is a stack of papers likely bound for the recycling bin sitting on the desk of your home office space, as well as empty plastic water bottles and a light bulb that is now flickering from over a year of constant use — you want to make an effort to go green while working from home, but don't know where to start. 
Changes don't have to be complicated. And since you may not yet know when you will head back to the office — or if you'll go back at all — you'd like to implement habits to be more eco-friendly while working at home. You may think that one little change won't do much to help the environment, but everyone can start somewhere — and even a simple change, like recycling empty plastic bottles, can have an impact. 
Follow Topics for more like this
Follow for more stories like this
It's worth noting that working from home is a great way to start being eco-friendly if the option is available to you. "If you're working from home, rather than driving to work every day, you've made a big dent in your ecological footprint," green-living blogger Susannah Shmurak told Apartment Therapy. It's hard to say with certainty if working from home is more eco-friendly than office culture altogether, as there are a number of variable factors that can contribute to the answer, including energy use and air conditioning, a BBC report from February 2020 noted. 
Even so, Shmurak pointed out, if workers were used to driving a long distance to get to work before the pandemic, they've already taken that first step. "Skipping the commute makes working from home an eco-savings on its own," she said. "Zooming instead of flying long distances to meet is another."
If you're looking to take your office or office space to the next level, there are plenty of easy ways to go greener without much effort. Here are five ways to be more eco-friendly while working at home, according to sustainability experts and business owners. 
Use natural light to your advantage.
Depending on how much space you have in your home, it might be worth revisiting where your office or office setup is located. "You can either maximize the use of natural light or look for artificial green lighting," sustainability expert and environmentalist Dr. Adenike Akinsemolu tells Apartment Therapy. 
A south-facing window might serve as a great light source if you want to work during traditional 9-to-5 hours, especially in the spring and summer. To that end, Dr. Akinsemolu recommends placing your desk in a position most exposed to natural light. It might also be worth the investment to paint a room white to reflect light, or add a mirror or two in a space that captures light from the window. These measures can help you keep your lamps and overhead lights off during the day, which can help you save on energy bills in the long run. 
If you need to print, purchase environmentally-friendly paper.
If you're working from home, chances are you may need to print spreadsheets or other documents. When printing is unavoidable, Jess Kart, an eco blogger and mindful living expert, suggests home office workers use environment-friendly paper, such as New Leaf, which offers recycled paper that can print colors effectively. Karst Stone Paper also produces paper products which don't use chlorine, acid, water, or even trees. No matter where you source your office supplies, Kart recommends researching the company to make sure they walk the walk. It's important, she says, "to ensure you're buying from companies that practice what they preach" in terms of sustainability. 
Kart also suggests thinking twice before you print that PDF. "Print when absolutely necessary," she says, and remember your computer likely "has enough space to fit a lifetime of your work."
Incorporate general reminders about the planet in your workspace.
Subtle and obvious reminders about the planet and your need to be eco-friendly in your work-from-home environment are important. "Place a reminder on your computer screen with a note to be kind to the planet and remind yourself each to do something for the earth," entrepreneur Reno R. Rolle, Sr., suggests. 
Something as small as a post-it can seem like a minor adjustment, but reminding yourself about a goal over and over again  can go a long way to shape behavior. Maybe your reminder asks if you really need to print that email, or if you can hold off on making that purchase out of convenience over the course of your workday.. Even reminding yourself to dispose of batteries and old electronics properly is a tangible and practical way to be eco-friendly — and it might just start with a designated bin in the corner of your office that serves as a reminder to yourself. 
Rent office furniture or purchase it secondhand.
There are many who had to create an office space at home, but that doesn't necessarily mean buying new furniture. If you know you're planning to return to a traditional office space in the near future, you might want to rent furniture instead of buying it. In the early days of stay-at-home order last year, furniture-rental service Fernish saw a 300% increase in home-office furniture rentals, Forbes reported, and New York's Strategist notes there are plenty of options for office furniture rental retailers at your disposal. Renting furniture can be more sustainable than buying it, especially if you plan on getting rid of it after a certain amount of time because you're going back to the office full-time.
If you realized that you really do like working from home, and want to talk to your boss about a flexible schedule going forward, it might be helpful to search for furniture from secondhand and resale outlets, or garage sales and the like. This way, you can save money and the environment — a report by the United States' Environmental Protection Agency found that the majority of furniture discarded in 2018 ended up in a landfill instead of being recycled. 
Pay attention your energy usage.
Working from home means you're likely using more energy than you have in the past. That could mean that  lights are on, your thermostat usage is higher, and your computer and cell phone are constantly plugged in. Staying mindful of your overall energy usage is an easy way to make a difference. "Heating or cooling your house while you work in one room is going to increase energy use and your electricity bill," Shmurak says. To that end, it might be worth investing in a small space heater when it's cold and a fan when it's hot. Shmurak also recommends opening and closing blinds to help manage an individual room's temperature.
You can also use these tips interchangeably: If you want to get in the habit of turning off lights when you're not in a given room, consider placing a colorful post-it or other reminder above the light switch so that it catches your eye when you leave the room. It helps to also power down electronics if you aren't using them. Leaving a laptop plugged in after it reaches full charge can eat up significant energy, the New York Times notes, and unless you have dozens of tabs open, you likely don't need that constant stream of electricity.