5 Favorite Decor Pieces Our Editors Bought This Year
We independently select these products—if you buy from one of our links, we may earn a commission. All prices were accurate at the time of publishing.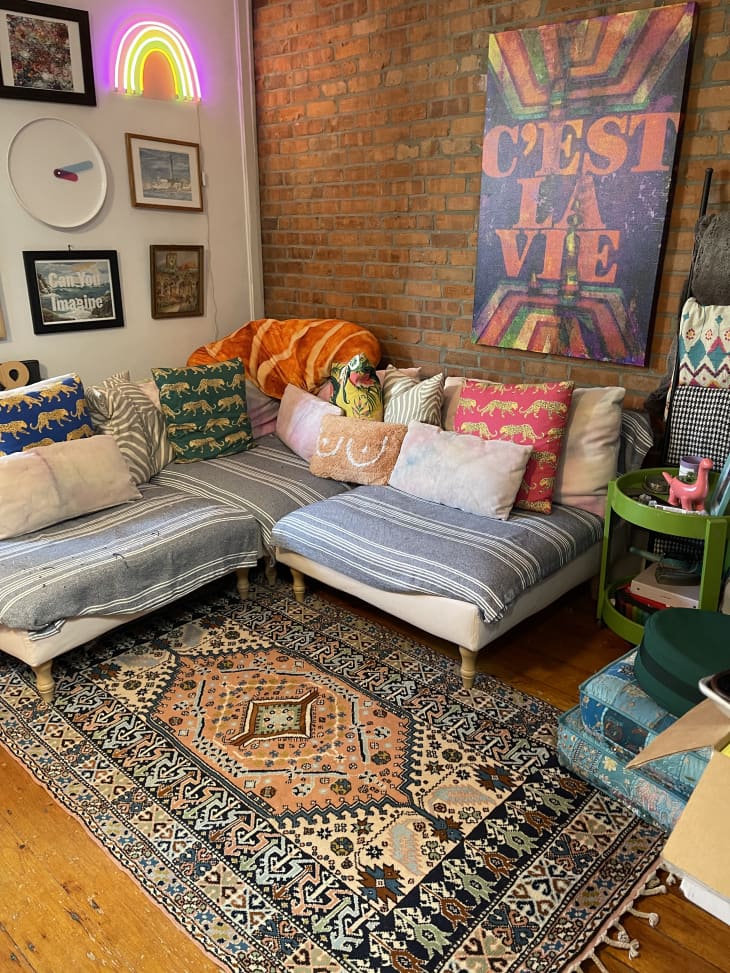 Apartment Therapy editors made some pretty great decor purchases this year, if we do say so ourselves. From an antique shop painting to a gorgeous throw pillow to Moroccan rugs straight from the source, our staffers struck design gold. Below, read more about five of our editors' favorite finds of the past year, and perhaps discover some of your own decorating inspiration in the process.
"My favorite decor piece I bought this year was this black and white pillow from Lulu and Georgia. I like the slight variation on the checkerboard print, and it makes me smile every time I see it in my living room." —Sarah Everett, Staff Writer
"I splurged on an old painting of a ship at an antique shop on Cape Cod this year. Usually I reserve antique shops for inspiration and try to find similar stuff at thrift stores for way cheaper, but this little painting just ~spoke~ to me. I gave it as a present to myself for my new apartment, and it's been worth it. I even bought a picture lamp to hang above it, so my prized painting gets its own spotlight." —Madeline Bilis, Deputy Lifestyle Director
As soon as I followed @blueeyesnorton on Instagram, I knew exactly which Pokemon-themed print of theirs that I wanted to place near my gaming setup. I purchased the Gen 3 friends just chillin print in the 8×10 size and thrifted a frame for it to place near my Nintendo GameCube." —Noella Williams, Assistant Editor, News & Culture
"This year, I fulfilled a lifelong dream of traveling to Morocco. Of course, I had to bring home some gorgeous rugs. Rug shopping in the desert is an endurance sport, and the sheer volume of options (not to mention the lovely yet insistent shop owners) can be overwhelming — it's important to stay strong and hydrated. But it's an experience I'll never forget and one I can remember every time I look down." —Tara Bellucci, News and Culture Director
"I'm so glad that I bought a pair of these Mulberry Silk Pillowcases in "Celestial" from Brooklinen earlier this year. Not only is the print super cute, but the silk lives up to the hype: My hair and skin are smoother than when I was sleeping on cotton. (I think skincare routines can only take you so far when it comes to clear skin — you gotta think about what you sleep on, too!) Plus, as someone with allergies, I know that this more hypoallergenic switch is keeping sniffles at bay, too." —Kelly Dawson, Deputy Editor