9 Apartment Therapy Editors Share the Best Design Advice They've Received from a Relative
We
independently
select these products—if you buy from one of our links, we may earn a commission. All prices were accurate at the time of publishing.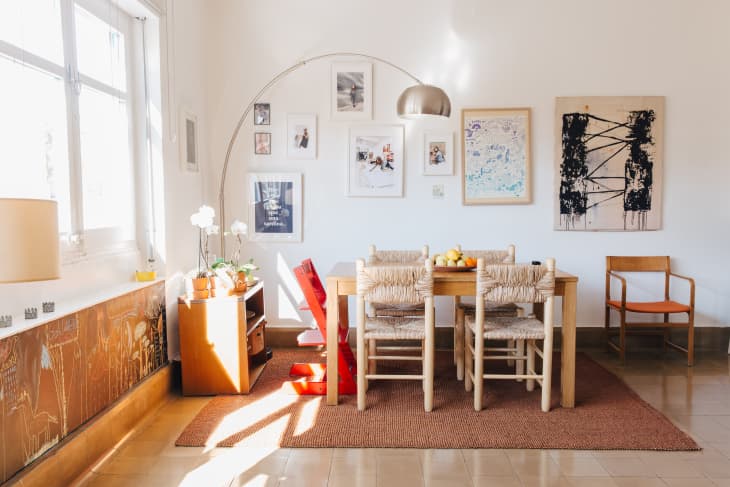 Apartment Therapy's editors see a lot of great ideas, brilliant tips, and inspiring photos throughout the year. But which of these are the most memorable after a jam-packed 12 months? Every day this week, we're sharing the best hacks, advice, homes, and more that we saw and heard in 2021. Check out all of our picks here!
You may not share your family's interior design tastes, but there's always some amount of sway carried over from the environment(s) you grew up within. My dad, for instance, is the self-appointed principal decorator of my own childhood home. While I certainly did not inherit his love of dark woods and primary colors, his penchant for centering each room around one statement piece (a rug, artwork, or furniture) has absolutely rubbed off on my own space. It makes sense; until I discovered HGTV, my parents' house doubled as my primary decorating playbook.
AT's Family Month back in November got me thinking: What sort of influences do other households pass down — and who better to ask than my own team, a cohort of home-savvy pros, no less? I polled a handful of editors on the best design advice they've received from a relative. With everything from sage shopping takeaways to styling words of wisdom to general lifestyle know-hows, a lot can be learned. We'd love to hear any tips carried over from your own families, too — leave a comment below if you have any to share!
"My mom suggested that I buy the expensive stuff first — furniture, area rugs, etc. — and then plan around that and get creative with the smaller things. My grandma likes to travel a lot internationally, too: She's been to Africa many times and says to display your favorite parts of your travels. Rather than getting a t-shirt or souvenir, buy something you can use in your home." —Savannah West, Assistant Home Editor
"My house has been in my family for ever and ever. My grandpa's rule is: Don't throw anything away, put it in the basement. Any time I need anything, I can probably go downstairs and find it in the basement. There's such cool, retro stuff in there, and it makes me never want to throw things away because it'll come back around." —Rachel Otero, Social Media Manager
"My mom says you can never have too many framed photos of family!" —Terri Pous, Managing Editor
"It's barely design advice, but I do think it still counts… and that's to take care of things. My dad always instilled in me the notion to pay attention to the maintenance of your things, to take care of things that break or need fixing immediately, and to work hard to make sure your things last. That includes maintaining things like your appliances, sure, but it also means taking care of your sofa regularly so it doesn't show wear and tear, it means cleaning and protecting your wood furniture so that it lasts, etc." —Adrienne Breaux, House Tour Editor
"It's worth saving your parents' or grandparents' decor items that someday can be displayed or refurbished into something that can live in your space! Those special pieces can mean the most." —Nicoletta Richardson, Entertainment Editor
"My mum is a firm believer in buying decor you like — not things that other people like." —Madeline Bilis, Real Estate Editor
"I hem and haw over decor decisions. My mom would say, 'Just choose one.' Make a plan to choose something, even if it's not necessarily the perfect thing, because it'll be fine." —Megan Baker, Home Projects Editor
"When I was redoing my kitchen, my sister said to install under-cabinet lighting. It makes tasks so much easier, and it wasn't top of mind for me before she told me. My mother also always has fresh flowers in the house. They always make rooms look better and happier, and you don't need a special reason to have them. They can be relatively affordable and they're an easy way to bring light to a space." —Brenda Schmerl, SEO Director
"My dad was a carpenter and said you need basic tools. You need a hammer, a screwdriver, and a drill. If you don't know how to use them, you need to learn." —Tara Bellucci, News & Culture Director