Meet Elsie de Wolfe: America's First Female Decorator and a Pre-Instagram Influencer
We independently select these products—if you buy from one of our links, we may earn a commission. All prices were accurate at the time of publishing.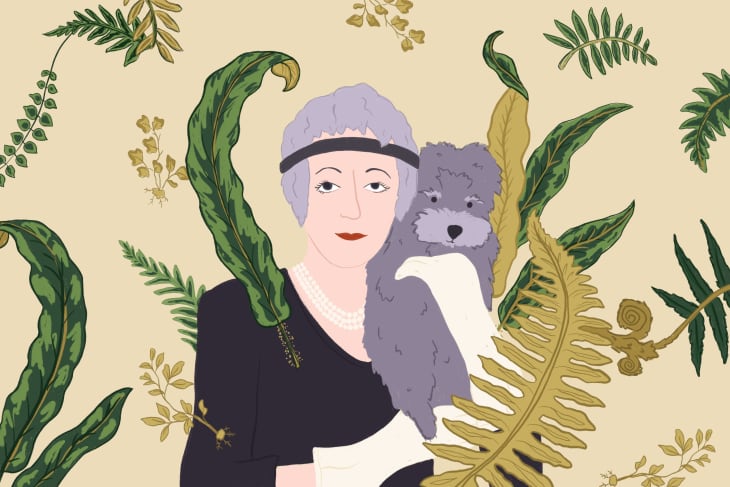 Elsie de Wolfe liked to call herself a "rebel in an ugly world." As a kid, when her parents decided to redecorate their brownstone in New York City, she ran into their parlor and took in the freshly papered William Morris patterned walls. In her autobiography 'After All', de Wolfe said that "…something terrible that cut like a knife" came up inside her upon seeing those gray palm leaves on their dull tan background. She threw herself on the floor and flew into a tantrum. "It's so ugly! It's so ugly," she famously cried. 
The dark, heavy Victorian aesthetic was the look du jour in the late 19th century, and it was something that de Wolfe became determined to change. Known as "the mother of interior design," de Wolfe ushered in a new age of lighter, brighter, more personal interiors in the U.S. She was a socialite and lifestyle influencer before Instagram ever existed—known for tinting her hair blue or purple to match her outfits, toting a little dog with her everywhere she went, and throwing great parties—she was even referred to as the "best-known American hostess in Europe." But her real legacy lies in her vision for design, which she clearly had strong opinions about early on, even if they were ones of disgust. It took a stint acting, however, for her to truly realize this passion.
In the 1890s, Wolfe began her career as a theatrical actress, and she became involved with costume and set design while staging plays. Turns out she was better at aesthetics than acting, so she left the theater and started pursuing design projects professionally. Her first commission was for The Colony Club in New York in 1905, which was the one of the first women's clubhouse in America, founded primarily by suffragettes. To design a club fit for rebellious women, she decided to distance the social house from the dark interiors, heavy woodwork, and velvet drapery of men's clubs to give women a space uniquely their own.
For this project, de Wolfe basically created an early version of The Wing. She painted the walls in pale colors, used wicker furniture, tiled the floors, and earned the nickname "the Chintz lady" by going heavy on floral patterns. "I opened the doors and windows of America, and let the air and sunshine in," she later said of her work and aesthetic. She became known for her love of white painted furniture, chaise lounges, clean surfaces, and large mirrors. Her interiors were soft, light, and feminine, and on the whole, they were a warm, welcoming change for the new century. 
Following her success at The Colony Club, de Wolfe was quickly hired by a roster of distinguished clients that she knew from society events. She transformed the private homes of glitterati like Amy Vanderbilt, the Duke and Duchess of Windsor, and the blindingly wealthy industrialist Henry Clay Frick. She even attracted the attention of Theodore Dreiser, editor of the women's magazine The Delineator, which gave her a decorating column that included, perhaps, suggestions for the world's first DIY projects. The best part? All of those articles were compiled and published in 1913 as a book, "The House in Good Taste," which you can read for free in its entirety, thanks to Google Books. Her pieces were supposedly ghost-written and certainly professionally edited, but they definitely captured de Wolfe's ethos. Some gems from the book that still feel relevant: "Light, air, and comfort" are three things to always have in a room, use "plenty of optimism and white paint," and "don't go about the furnishing your house … with furniture of some one period." Even for de Wolfe, the decorating magic was in the mix.
De Wolfe truly was a trailblazer when it came to interior design, helping not only to launch a new industry but also to bring light and whimsy back into American homes. And for that, we salute her.