3 Genius Decorating Tips from Emily Henderson's New Book
We
independently
select these products—if you buy from one of our links, we may earn a commission. All prices were accurate at the time of publishing.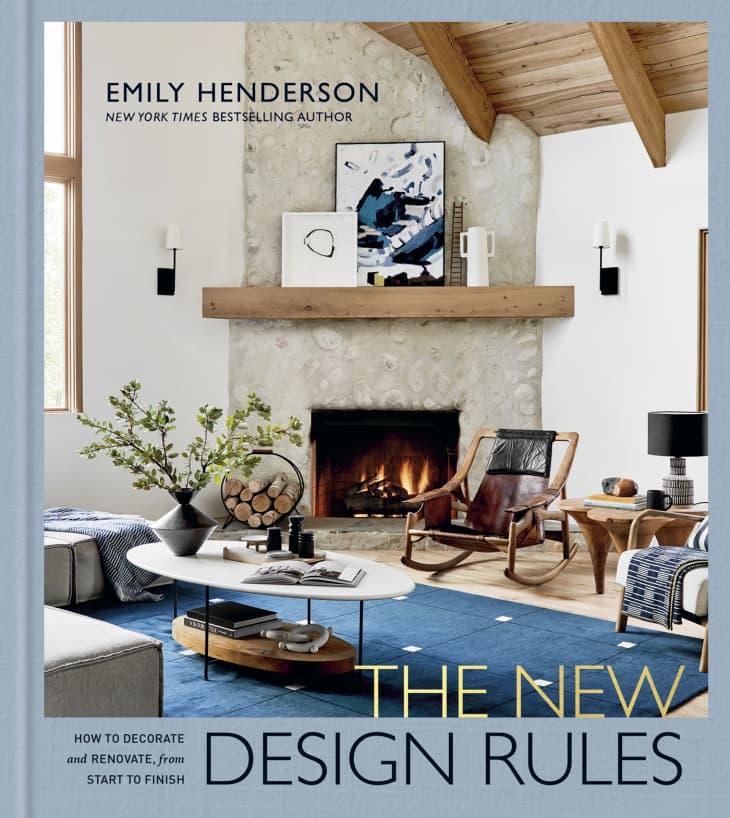 Emily Henderson's new book, "The New Design Rules," is out today! An encyclopedic guidebook for everyone, from beginner to expert, this books tells you how to approach any project in your home. 
Henderson breaks it down from the very start (like, do you have a home in need of a full reno, or can you just give a room a coat of paint?), providing instances when you'll need a contractor or a plumber, or when she's fully confident you can DIY it. She also teaches you how to speak the language of the pros, by revealing the costs of a stone slab, labeling the anatomy of a window, and listing all the pros and cons of every kind of upholstery fabric. 
Then, she pulls examples from her own work and the work of those she admires to illustrate how a "rule" can be broken, and why it works in each instance. "I want you to make more informed choices," she says in the intro, "you should know the rules, but I want you to be able to break them with confidence." 
Henderson's design resume is incredible — winning HGTV's "Design Star" in 2010, cultivating a successful design blog for the past 10 years, and producing her first bestselling design book, "Styled" — but she's also a natural teacher, sharing expertise on her Instagram and doing in-depth sofa reviews on her blog. Henderson is exactly the buddy you'd call on when handling a home project. 
While there are countless sharp examples of excellent design advice, we picked three of our favorite rule-breaking tips. 
Not Every Chair Needs to Be Sat In
 Before you let your inner monologue take over (What do you mean? Isn't the whole purpose of a chair for sitting?"), think about it! Chairs are one of the most beautiful forms of furniture art — they can be constructed with delicate bent wood, made with expertly woven seats, or upholstered in delightfully-patterned fabric. But they're not always in great condition, or perhaps they're a lone soldier that doesn't fit in with the other dining chairs you have. Rest assured, Henderson understands. 
"I've been known to buy 'looking at' chairs," she admits, "This might seem silly and a waste of space, but looking at them brings me a lot of joy." And isn't that the whole point of decorating your home, anyway? If it brings you joy, then it's doing its job. Plus, chairs can act as a plant stand, hold a stack of favorite books, or simply fill up an empty space in need of some character. 
You Aren't Bound to the Paint Swatch 
Picking paint colors can be a long and tedious process, and for what? Paint is one of the easiest things to reverse, but many people still hem and haw about what color to choose before rolling it onto the walls. To make things more complicated, certain shades are almost perfect, but not quite right. Good news: "If you love a color but wish it were, say, 30 percent lighter, you can have that color mixed," Henderson points out, "Designers do this all the time to get the exact shade they want." Just bring the swatch into your paint supplier and ask to lighten or darken the shade until you have a perfectly custom color. 
Why Not Tile the Bedroom? 
Tile? In the bedroom? You might be shaking your head. Sure, tile isn't the conventional choice for a bedroom, because it can certainly be cold underfoot, and isn't the best at noise absorption when compared to hardwood or carpet. Sometimes, though, unconventional flooring choices have other benefits, like in this bedroom: the tile is classically-patterned, adds depth and interest to the room, and brings a certain staying-at-an-Italian-resort vibe. Worth it? Well, "I would gladly wear slippers for the rest of my life if these were my floors," says Henderson. Another option: radiant heating underneath the tile, for warm feet out of bed every time. 
Images reprinted from "New Design Rules" Copyright © 2022 Emily Henderson with Jessica Cumberbatch-Anderson. Photographs copyright © 2022 by Sara Ligorria-Tramp. Produced and styled by Velinda Hellen. Published by Clarkson Potter, an imprint of Random House.