Could "Emily In Paris" Really Afford Her Lifestyle? Here's What The Numbers Say
We
independently
select these products—if you buy from one of our links, we may earn a commission. All prices were accurate at the time of publishing.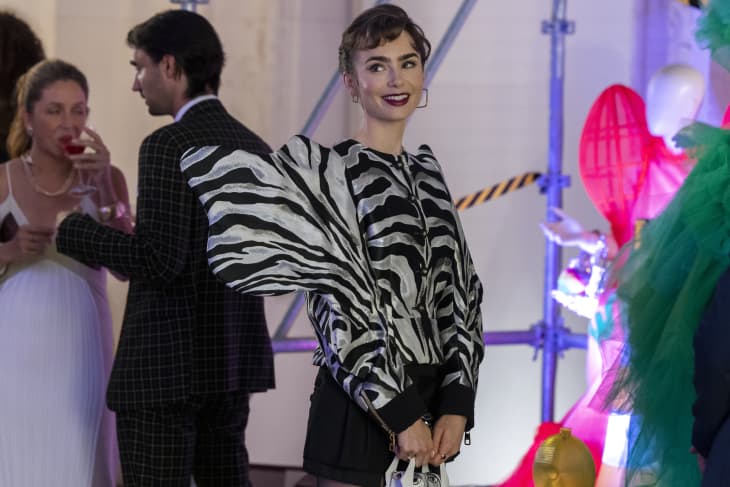 "Emily in Paris" is coming back to Netflix on December 21 and everyone will once again be cringing at the awkward situations Emily Cooper (played by Lily Collins) gets herself into while asking, how the heck can Emily afford that Chanel bag?
To figure out if Emily could financially sustain herself in Paris knowing what we know about her lifestyle, experts with NewCasinos crunched the numbers to see if this fictional show could ever be reality — and, uh, spoiler alert: it can't.
NewCasinos estimates that Emily, an American expat working at a marketing agency in Paris, France, would likely be earning a yearly salary of around $47,000. And that should already be raising red flags for avid "Emily in Paris" viewers.
Emily's wardrobe, full of Valentino, Prada, Christian Dior, Chanel, Louboutin, and Balmain, is estimated to cost her about $77,000 a year to maintain with the most recent fashions. But, as NewCasinos pointed out, Emily was also spotted in Season 2 wearing a Vassilis Zoulias yellow printed jacket which costs upwards of $54,000 alone.
Then there are Emily's Parisian living expenses to take into consideration. NewCasinos estimates Emily's rent in Place de l'Estrapade (which is right near the Pantheon) hovers around the $33,000 per year mark with utilities costing about $2,300 annually.
In total, Emily's fashion, rent, restaurant, cafe, and bar outings, and transportation costs all tally up to about $120,000 per year, which is way off Emily's spending budget of $10,000 after rent and utilities and $73,000 over her annual income.
Of course, viewers likely knew that "Emily in Paris" was selling a pipe dream, but now you can see the proof in the Parisian pudding. Though this reality check doesn't mean you have to stop living vicariously through her any time soon.