Here's How To Recreate the Headboard From "Emily In Paris"
We
independently
select these products—if you buy from one of our links, we may earn a commission. All prices were accurate at the time of publishing.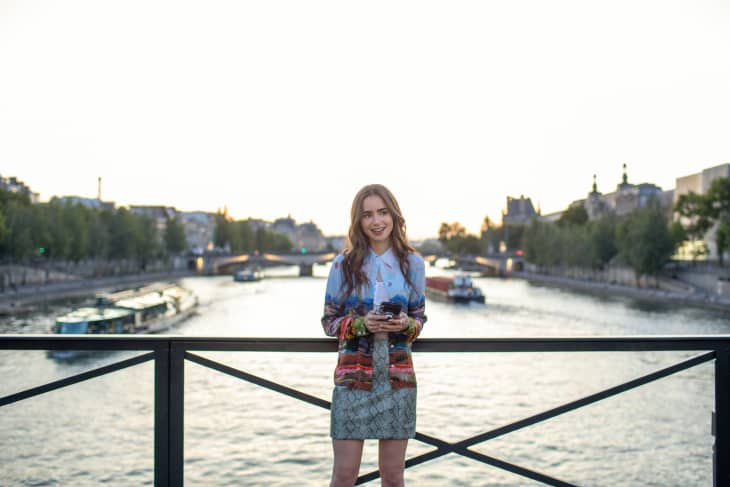 Though Netflix's "Emily in Paris", starring Lily Collins, gives viewers a look at some of the best architecture and interior design Paris has to offer, the small details are what kept many coming back for more. For example, in Emily's small-but-mighty Paris apartment, we're treated to a DIY-style headboard that looks easy to recreate yet oh-so-chic.
Collins posted a behind-the-scenes photo from her time shooting "Emily in Paris"—specifically one of the scenes from inside her bedroom. From the looks of it, the headboard is actually just strips of fabric anchored at a center point behind the mattress and then pinned in a fan shape to the wall behind the bed.
So, technically, to recreate this look, all you need is an old bedsheet or some cotton fabric torn into strips (cotton is easy to tear on the grain) and secured to an anchor of some sort—a wooden dowel cut to the same width as your bed would work well. Then, secure the anchor point to the wall and get to splaying. You can use small nails or reusable adhesive putty to hold your fabric strips in place.
If you're not the DIY type, there are a few dupes out there that achieve the same look of Emily's headboard without the hassle of making it yourself. This one from Urban Outfitters, for example, is that perfect fan shape and can be spray painted white to add subtle texture to a white wall in the same way Emily's does.
Or, if you like the woven fabric look, you might want to check out the wide variety of macrame headboards available on Etsy. They range from super simple to intricate and add texture to the space.