How to Host the Ultimate End-of-Summer Party, According to Experts
We independently select these products—if you buy from one of our links, we may earn a commission. All prices were accurate at the time of publishing.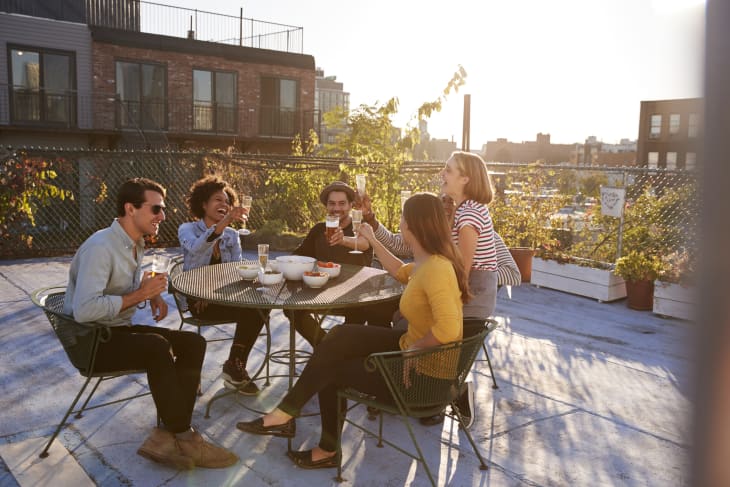 Fall is on its way, but before you don a plaid scarf with a PSL in hand, think about saying goodbye to summer by gathering with loved ones to soak up the last of the long days and warm nights. Doing so will give you, your family, and your neighbors one last chance to gather before hectic schedules take over and everyone settles into a routine. 
Follow Topics for more like this
Follow for more stories like this
As to-do lists grow longer, make entertaining easy on yourself and your guests so that everyone can relax and soak in the lingering daylight hours. Set a date, enlist the help of your neighbors, and get your friends together for one last hurrah. Here's how to be the hit of the neighborhood and host the ultimate end-of-summer party — while keeping both safety and your guests in mind.  
Before you send out those invitations, check the Center for Disease Control and Prevention's guidelines about social gatherings, and note any local ordinances that might affect your plans. Weighing the potential risks can help put guests' minds at ease, even if everyone is vaccinated. Keeping things outside and noting whether guests should wear masks on the invite are both good ideas, as is keeping an eye on case rates in your area. Just in case, have an alternate date and plan in mind should you need to reschedule — your guests will understand.
Choose a convenient location.
Depending on where you live, finding a space to celebrate may be a bit challenging. Of course, traditional neighborhoods have yards or possibly even a cul-de-sac for hosting. If you live in a more urban area, see if your building has accessible rooftop space. Hosting in a local green space is also an option, although consult with your parks department about reserving a location before setting up camp. Additionally, choose an area accessible for older or disabled guests — avoid stairs if possible, and make sure that the ground won't cause people to trip and fall.
After being isolated, folks are starting to get excited about socializing with friends as they celebrate the end of summer. A theme adds an extra element of anticipation. "Provide attendees with an inspiration board that will give them a glimpse of what to expect for the party as well as ideas for the attire," suggests Bri Marbais, a stylist at The Bridal Finery in Winter Park, Florida. Pinterest is a fabulous place for guests to get ideas. And your theme doesn't have to be elaborate: simply using the end of summer as inspiration absolutely counts. Just add beach balls and bright colors to close the season with a splash.
Open with an ice breaker.
If you're inviting neighbors you haven't seen in a while, help get the mingling started on the right foot with a few well-planned ice breakers. "Arriving at a party can sometimes be the most uncomfortable part, especially if you're introverted or don't know anyone," says Jamie Chang, an event planner at Mango Muse Events in San Francisco, California. "A great way to make sure all guests feel welcome and comfortable is to kick it off with something fun to break the ice and put a smile on their face. Maybe that's with a silly name tag, a funny photo booth, balloon hats, or perhaps it's just a yummy drink."
Provide solid entertainment.
Once everyone gets to know each other, encourage them to linger by having entertainment. "Make sure there is good music and interactive things for your guests to do," says Nora Sheils, the founder of Bridal Bliss, an event planning company with locations in Oregon and Washington. Of course, consider all ages when you hire entertainment. Another option is to see if anyone in your neighborhood has a unique skill or a garage band just waiting for its debut.
Outdoor games are perfect for having fun while maintaining a bit of distance between folks. "Make it as fun as possible," states Laura Maddox, the owner of Magnolia Celebrates in Atlanta, Georgia. "Bring in the silly games and toys, and don't be afraid to get a little bit silly!" Chang agrees that the addition of interactive games is essential. "Block parties are all about bringing people together and getting to know one another, and one of the best ways to do that is to play some games," she says. Consider all ages and abilities when planning your games so that everyone has a chance to participate.
"No matter where in the country you live, August is just hot," reminds Maddox. "Keep your guests as comfortable as possible by offering cold beverages, food, and perhaps centering the theme around a body of water." Providing shade, large outdoor fans, sprinklers, and water guns add to the fun while helping guests keep cool. Also, have several water stations available where folks can stay hydrated and not overheat.
Even though you are organizing the event, enlist the help of others when it comes to providing food. If you are preparing a meal on-site, try to cook outside or offer chilled selections. "Keep the food theme to barbecued or uncooked items — cowboy caviar, cucumbers, and hummus, or light bites — that also don't heat people up," suggests Maddox.
Additionally, make allowances for various dietary needs. "The host should take into consideration potential dietary restrictions such as vegetarian or gluten-free," advises Marbais. "Having a variety of options for all kinds of diets will make guests feel right at home." To accommodate everyone, Sheils suggests hiring a service, such as a food truck or catering service, which leaves the cooking to someone else.
Send guests off with a souvenir.
Having a favor from your end-of-summer party is a fabulous way to support locally owned businesses and send everyone off with a memento. "The party has to end at some point, but if you leave your guests with something to remember the event, that fun continues even after they're gone," suggests Chang. "It could be a little sweet treat to-go, a photo, a prize from a game, a summer playlist, or just something the community is known for." 
Although having fun and receiving a small favor add to the festivities, the ultimate goal is to build solid relationships with neighbors and friends alike. "What you will always remember about summer is the slower pace of life, the late nights, and the memories made with your friends and family," says Maddox. "The end-of-summer bash should honor these things."