Erika's Seattle Craftsman
We
independently
select these products—if you buy from one of our links, we may earn a commission. All prices were accurate at the time of publishing.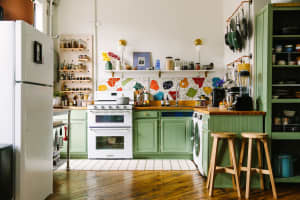 Can't-Miss House Tours Straight to Your Inbox
Keep up with our latest house tours each weekday with our House Tour of the Day newsletter
Name: Erika Stanley
Location: Seattle, Washington
My husband, six kids, and our yorkie live in a 2000 square foot, 1909 Craftsman in Seattle. My parents bought this house when my firstborn was a baby. It had brown shag carpet, walls dripping with nicotine, the original kitchen, electrical and plumbing. My parents were new to town and thought it was way over-priced. I begged and convinced them to buy it with the secret hope of one day owning it myself.
After nervously taking the plunge, my parents, sister and me (with our babies in tow) did a cosmetic overhaul before they moved in. Then a few years later they had a house fire. The silver lining was that the post-fire remodel included a new kitchen and added master bath addition.
We loved that house. Like, passionately. But, with talks of adoption in the air, we needed something more suited to our potentially growing family. Our constant badgering of my parents to sell us their rental house finally came to fruition.

We'd already agreed on the purchase and price before doing our walk through. I hadn't seen the house in five years and my first impression was, "Yikes, maybe this isn't the house for us." Keep in mind that there had been a five year flow of college kids living here. Suddenly the house felt smaller than we'd remembered and it smelled like stale cigarettes and liquor.
Fast forward again four years and here we are: New paint inside and out, expanded kitchen, new guest bath, new deck, another creatively created bedroom, an incredibly simple yet functional basement play/laundry space, two more kids, and a new dog.
Why do I love this house? The layout is almost identical to my grandmother's house. Her house was like a loved one to me, and when she sold it, I literally mourned. My sister and I flew to the East Coast to sit on the sidewalk and cry. Just like her old house, mine has a front porch, an entry way with a beautiful staircase, a deck that gets sunshine all day long, a fireplace, and a terrific location to boot. Unlike my grandma's house, I also have an eat-in kitchen that accommodates our big family, a (tiny) master bath, a big play basement, and mountain views from my bedroom lanai.

My favorite room is the living room. It's full of treasures like my grandmother's couch (refurbished in red velvet), her china cabinet and secretary, her bedroom chair, my grandfather's old record cabinet, and piano. These pieces are not only beautiful but they hold memories. My grandfather was an incredible piano player who knew how to throw a party. We always found ourselves in a line doing the bunny hop while he played the music. My living room furniture was at all those parties.
Practically speaking, I love my kitchen. It's incredibly functional and has a huge eating area that used to be an ugly, ridiculously big bathroom. When we started that remodel project it was impossible to imagine how much space we would gain and how the added windows would add life-giving sunshine to our days.
My second favorite DIY project is the bedroom that I made by myself. For real — I cut a hole in the wall in the hallway for the door and made a bedroom out of what was a closet and under-the-eaves space. It's now a tiny but cozy bedroom. I even built a new closet in the bedroom that lost its closet.

My style is definitely eclectic — it's a family thing. My mom, sister and I can (and do) talk for hours about rearranging, paint colors, rehanging pictures, and remodeling projects. I have antiques, IKEA, garage sale finds, and hand-me-downs. The only thing I paid a lot of money for is my dining room hutch. If I love something I make it work; when I'm tired of it, it goes to Goodwill. My house is my creative outlet. I like to think of it as my ever-changing art project. I'm also very fortunate to have an artist sister and brother-in-law who have given us original pieces for our walls. Oddly enough, my greatest inspiration is Wes Anderson. His movies are so beautiful and quirky, I want to live in one.

I love this house. The layout is accommodating to all the people who live here (nine right now and we don't feel cramped) and the craftsman style makes me feel nostalgic. My husband and I have lived in ten places since we married 20 years ago. This is the first one that gives us no reason to leave. I think this may be "the one." And that means something coming from a compulsive mover.