Etsy Just Announced Their Color of the Year, Plus Other Trends That Will Be Big In 2020
We
independently
select these products—if you buy from one of our links, we may earn a commission. All prices were accurate at the time of publishing.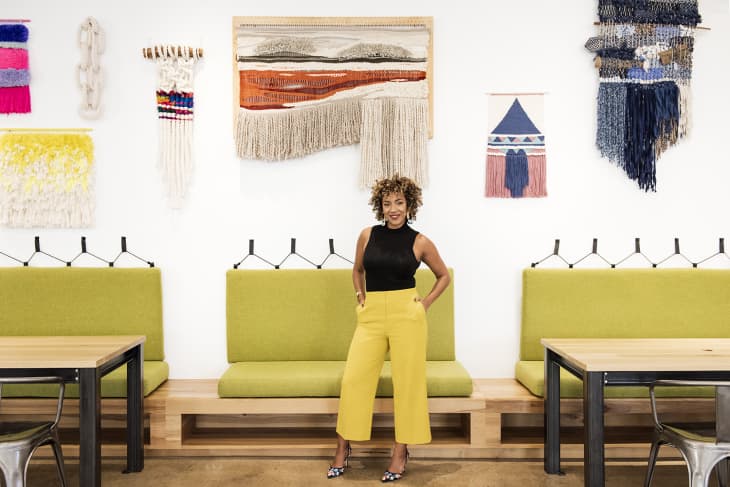 'Tis the season. No, not the holiday season—though it is that, too. It's the season for trend predictions, colors of the year, and general musings about what we'll all be obsessing over in 2020. We're doing our own countdown to the new decade over here, but our friends at Etsy have a few predictions of their own. Here's what the maker platform is betting will be big in January and beyond.
Etsy is calling 2020 the Year of Purpose, and for good reason. "The Year of Purpose is all about making mindful choices and thinking about the impact of our actions," Etsy Trend Expert Dayna Isom Johnson tells Apartment Therapy over email. "Shoppers are going to be putting more thought into what they buy than ever before—considering both the environmental and social impact of each purchase that they make. This concept extends to how shoppers will be decorating their homes, as they consider the functional purpose of each decorative item before buying."
Speaking of impact, one trend that will make a big one in your space is Etsy's 2020 color of the year: Chartreuse.
"Chartreuse is bold yet refreshing option when incorporated into home decor, and we're about to start seeing it everywhere from bedding to wall art and everything in between," says Isom Johnson. "Shoppers who aren't fully ready to commit to the trend can start out with a chartreuse accent pillow or throw blanket, and combine it with more neutral colors, like grey or navy, for an eye-catching combo."
If you want to try chartreuse but don't want to go full out, another 2020 trend could help you with that: colorblocking.
"While color blocking has come and gone as a decor trend, 2020's version focuses on pairing unconventional colors—like chartreuse and navy—to add instant personality to any room," Isom Johnson adds. "A mature iteration of the cut-out shapes we saw in 2019, next year's color blocking is all about experimentation and self-expression."
While chartreuse and colorblocking are things we can add to our space, the next trend Etsy predicts will only get bigger in 2020 is for our four-legged friends: pet wellness. The company sees that #selfcare will only expand beyond humans to our fur babies in the next year, with everything from organic bath products to customized snacks.
According to Isom Johnson, "Shoppers are taking a step beyond just pampering their pets with high-end beds and aesthetically-pleasing toys—they're bringing their pet's health and wellness to the forefront. We're seeing pet parents increasingly search for treats with custom ingredients, small-batch shampoos, and even homemade pet food, catering to their pets' diet and skincare needs, telling us that the wellness movement is extending from ourselves to our four-legged friends. In fact, on Etsy, there has been an 11% increase in searches for custom treats (some even feature your pet's name), a 16% increase in searches for pet shampoo, and a 15% increase in searches for pet food in the last three months (compared to the same time the previous year)."