Everything You Should Clean After Someone Has Been Sick in Your Home
We
independently
select these products—if you buy from one of our links, we may earn a commission. All prices were accurate at the time of publishing.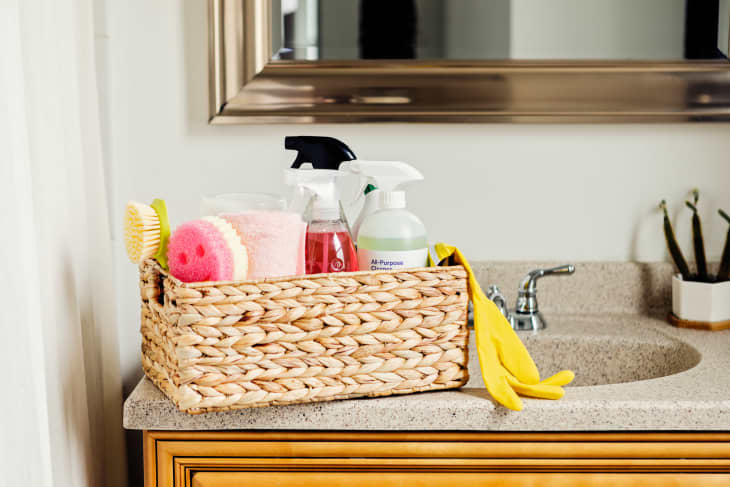 When someone has been sick at home, it's important to strike a balance between nursing your loved one back to health and keeping everyone else healthy, too—and that includes yourself. So in addition to the chicken soup, cozy comforters on the couch, medicine, temperature checks, and everything else that goes into taking care of a sick family member, you should also be thinking about cleaning your home.
Curious as to what to use to sanitize everything? In general, alcohol wipes are handy, says Fradin, but check out the list below for the full run-down.
These places are the most important areas to clean when someone in your house has been sick, says Fradin. But what exactly is a high-touch spot? Think: door knobs, refrigerator handles, and cabinet drawer pulls. Other things to consider might include stair banisters, remote controls, sink handles, and just about anything else that most of your family members touch on a daily, or weekly, basis.
No matter what type of surface you're cleaning or what solution you're using, your best bet for effective disinfecting is to pay close attention to the instructions on the solution's packaging. This often means letting the cleaning solution sit on the surface before wiping. Sometimes, this can mean waiting up to 10 minutes for the solution to do its job.
Though all high-touch surfaces should be cleaned in the event that someone at home has been ill (seriously, all of them), it's worth emphasizing just how important it is to disinfect the items we touch the most. This is especially true of the item that so many of us have trouble putting down: our phones. According to TIME, phone screens tend to be ten times dirtier than a toilet seat—and that's under normal circumstances, without any sickness or viruses floating around.
The best way to clean a phone is by using a microfiber cloth and a slightly diluted alcohol solution—just be careful not to get any solution in nooks and crannies, including charger ports and headphone jacks.
Couch Cushions and Bedding 
If you've ever spent a day or two sprawled out on the couch while sick, you know how hard it can be to get yourself to move from the spot. This also means that the area is a spot ripe for collecting germs. "If someone is camping out on the sofa while sick, cover the sofa with an extra sheet," says Fradin. "It's much easier to wash the sheet than to clean the sofa cushions after illness." 
Just because you clean your teeth with your toothbrush doesn't mean it isn't full of germs. In fact, your toothbrush can be a source of reinfection, especially with things like strep throat, say Fradin.
Toothbrushes should always be replaced every three months, or after someone has been sick.
You know that box of medication, bandages, and thermometers that generally goes untouched until someone in the house is sick or injured? It's important to clean this—and the medications that may be in it, says Fradin. Other medical supplies, like intranasal allergy medication or an asthma inhaler should also be cleaned regularly. To do so, follow the same steps as you might for high-touch surfaces.
Everything in the Kitchen
As a blog post from the Cleveland Clinic explains, the kitchen is an especially important place to disinfect, because it's where meals are prepared. This means it's probably worth spending an extra minute or two disinfecting countertops and using an alcohol wipe on drawer pulls, sink handles, coffee makers, and just about anything else family members tend to touch.