A Couple Gets Creative With the Layout of Their Small, Colorful Rental
We independently select these products—if you buy from one of our links, we may earn a commission. All prices were accurate at the time of publishing.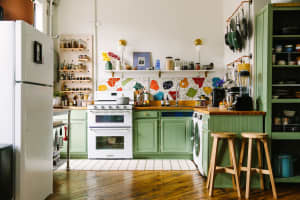 Can't-Miss House Tours Straight to Your Inbox
Keep up with our latest house tours each weekday with our House Tour of the Day newsletter
Name: Naeme El-Zein and partner David Rousseau
Location: Pointe-St-Charles, Quebec, Canada
Size: 600 square feet
Years lived in: 4 years, renting
Naeme is a creative director, strategist and writer who's worked with a variety of brands like PULP magazine, British Vogue, WANT Les Essentiels, and ALDO Group, to name a few. She's passionate about boundary-pushing ideas, visuals, words, and experiences that evoke an emotional reaction. And the small rental apartment she shares with her partner David Rousseau reflects all those vibes.
The space is technically a one-bedroom, but it has studio apartment-like vibes thanks to being very open concept. This has forced the couple to get creative in utilizing all the areas of the small home. This is the first home Naeme and David have shared together, and they were presented with the challenge of any couple sharing a new space… merging old pieces and acquiring new things in a cohesive visual that reflects them both. Their aesthetic has therefore evolved over the four years they've shared the space.
Naeme comes from a fashion and design background and that informs her taste to a degree, but neither her partner or her are snobby about brands—they love to experiment and find beauty in the unexpected, and consequently their space feels eclectic.
Apartment Therapy Survey:
Our Style: We moved into our place about four years ago. It was the first apartment we looked at. I saw the exposed brick wall, the spaciousness of the bathroom, and the proximity to Lachine Canal and was like, "sold" (but in renter's terms). We like to live our lives within a 10-minute radius of croissants at all times—so having Atwater Market near is also an additional bonus.
We are not minimalists! But when you are "stuff" people who like to collect art, books, records, and objects, and your space is mostly open concept—you've got to be creative in utilizing space so you don't tread into hoarder territory. Our aesthetic has evolved as this is our first place together. Decor for us is an opportunity for self-expression, play, and inspiration. David is the more practical of the two of us and he thinks about all those important but often overlooked details that make a house feel like a home… like perhaps instead of a 17th throw pillow, we get a chair for guests!
Inspiration: Naeme: Two of my favorites spaces are the Drake Hotel in Toronto and its sister hotel the Drake Devonshire. I adore the eclectic art, the mix of high and low elements, and blend of contemporary and retro aesthetics seamlessly working in harmony. The spaces are a feast for the eyes of unexpected, offbeat details.
Favorite Element: Naeme: For the longest time I was on the hunt for a vintage matador poster. A couple years ago, I found a scrap of material, crumpled and dirty, in a junk bin at secondhand store. Intrigued by the color combination of red, Kelly green and chartreuse, I unfolded it to reveal the matador in a stadium print. It was a lucky $5 find and once it was framed, really fulfilled what I'd been hunting for.
Biggest Challenge: Our biggest challenge was making the most of the somewhat unusual layout of the space. With most of the apartment open, we had to really consider what made the most sense where and [how to] maximize small areas for optimal functionality. For example, the room at the front of our apartment is too tiny to fit a bed but we didn't want it to be a storage space as it leads to our balcony. We made it into an office-slash-walk-in closet. It works.
What Friends Say: Our friends are generally really positive. They were surprised with how many pieces of furniture we made ourselves in the first year of living here. However, it was mostly out of necessity as we had very little to start and on a budget. They also are a bit envious of how large the bathroom is! It's quite unusual in Montreal to get a good size bathroom when you're renting a smaller apartment. Definitely was a selling point.
Biggest Embarrassment: It isn't ideal that the restroom is directly off of the dining area. We try not to have bean burrito dinner parties too often if you catch what I am throwing.
Proudest DIY: David: My proudest DIY is the floating desk in the office because it was an idea I came up with spontaneously and it worked out well within the limited space.
Biggest Indulgence: Naeme: The natural rugs are from a trip to Oaxaca, Mexico. The artists that made it are from a family of four generations of natural weavers and dyers. It is really incredible to see the process in person and if gives you a deeper understanding of why it is worth it to invest in these types of pieces. All the colors come from collected plants, insects, flowers, and minerals. It is a painstaking process with an extraordinary amount of skill and craftsmanship that goes into each piece.
Best Advice: David: Don't rush as you are putting together your home. If you make a purchase in haste you will end up regretting it.
Naeme: On that note, if you really, really love something, just go for it. Chances are if you feel strongly about it now—you will in 10 years. Better to invest in what you love than save on things you feel lukewarm about.
Dream Sources: One of my favorite resources for home and special objects is a store in Toronto, The Wanderly. The two owners, Sarah Gelfand and Katie Nicholson, are lovers of travel and appreciate beautiful design. They bring special artisans and brands into their shop that have a rich story behind them.
DINING ROOM
Dining Table — DIY
Chairs — Structube
Black and White Painting — Artist Unknown
Shelves — DIY
Bar Cart — Nate Berkus for Target