This Is Why Home Inspectors Actually Hate to See Exposed Brick
We independently select these products—if you buy from one of our links, we may earn a commission. All prices were accurate at the time of publishing.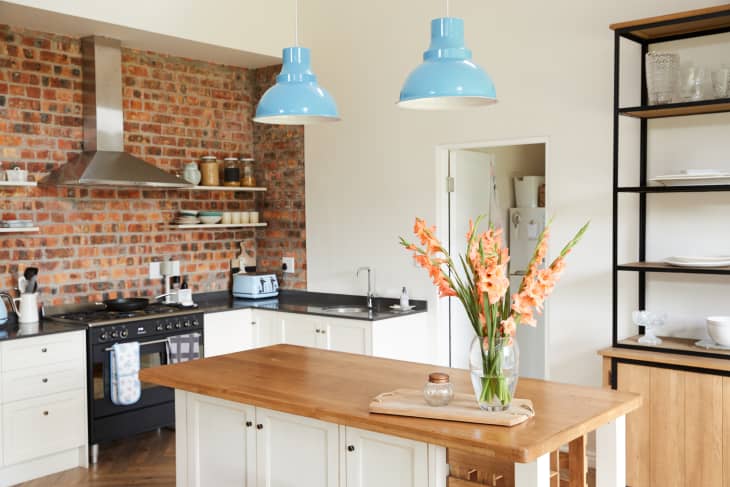 If there's one thing that makes my heart sing design-wise, it's exposed brick. I mean, aren't nude bricks the quintessential symbol of a cozy room? I remember staying with family in New York City and experiencing serious envy over the fact that they had an entire wall of exposed brick — that was 10 years ago, and I still covet them. My current, painted drywall rooms pale in comparison. Or do they?
Recently, I discovered that some home experts frown upon seeing red rectangles in all their uncovered glory. That news stopped me in my tracks, and I simply had to find out why. Even though my family has since moved, is it possible that the subject of my envy for the past decade is actually a negative? Here's what a few experts had to say on the subject. It may surprise you. 
Bugs love bumpy, natural surfaces.
Bugs. In your house. Obviously, that's not a plus in anyone's book, except maybe from the insect's point of view. Diana Ludwiczak is a certified home pest inspector in New York City and has seen her fair share of creepy crawlies. "Over the years, I have been to way too many apartments with an exposed brick wall and a bed bug issue," she says. "When you have an exposed brick wall that isn't sealed in a bedroom, you are creating potential hiding spots for bed bugs." 
The unfortunate news is that the dimples peppered throughout the bricks are perfectly insect-sized. "The bugs can squeeze in and out of the small holes in the porous bricks," adds Ludwiczak. She suggests sealing the area with a clear sealant or paint to make the area less attractive to pests. Of course, you may still get the occasional spider on the brick, but a good sealer will prevent bugs from living in it. Bugs aren't enough of a reason, say you? Read on.
Fire spreads quickly on brick surfaces.
If you think wood is the only substance in your home that can catch fire quickly, think again. Your exposed brick surface imposes an added danger if it comes in contact with a flame. Chris Alexakis is a building contractor who warns against this risk of exposed brick. "The mortar joints between the bricks are often filled with flammable materials, such as sawdust or sand, which can act as fuel if the brick becomes exposed to a fire," he says. Of course, hopefully, you'll never have to deal with a blaze, but just be aware there may be an added threat if a fire breaks out.
Natural elements break down easily.
Brick surfaces are best left on exteriors, with the inner-facing part of the blocks covered in wood, plaster, or other materials. Couple that with the fact that they consist of natural items like clay and shale, and you have a combination that should probably stay outside the home. As a certified home inspector, Mike Powell is exceptionally knowledgeable about the pitfalls surrounding interior brick walls, one of which is attracting moisture. "The porous material acts as a reservoir that can hold onto moisture for more elevated periods of time," he warns. Humid environments compound this issue. 
Another problem with the natural components of the blocks is that they can deteriorate over time. "It's common for surface residue and material to flake off, and dust can commonly be found near the various joints as they thermally expand and contract," adds Powell. As a result, it's possible you will encounter small pieces of brick or mortar shedding over time, and you may have to pick up the feather duster more often than you'd like.