This Utah Home for Sale Is Built into a Mountain — See Its Stunning Exposed Rock Wall
We
independently
select these products—if you buy from one of our links, we may earn a commission. All prices were accurate at the time of publishing.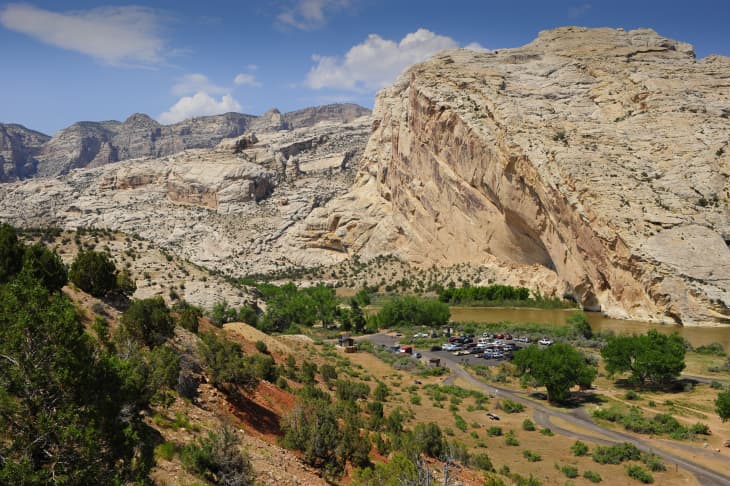 Exposed brick in homes and apartments is a huge selling point for those who like a space with character. But one home in Vernal, Utah, is seeing that exposed brick trend and proving it can do one better. The $1.35 million home is literally embedded into the side of a mountain and the exposed rock on the inside of the house is beyond beautiful.
Spotted by Zillow Gone Wild, the mountain mansion is a display of top-notch architecture and design. The homebuilder worked with the natural rock from the mountain and incorporated it into the design of the kitchen, bathrooms, and stairway, and where the rock couldn't be utilized, the surrounding rock faces are on display, thanks to the panoramic windows.
"This Vernal, Utah home ROCKS," Zillow Gone Wild captioned its post.
"Literally it's built into the side of this mountain."
"A geologist's dream," one Instagram commenter wrote. Another added, "But does it come with dinosaur fossils?" The surrounding mountains, according to the listing, do actually have evidence of ancient petroglyphs — so that's definitely something.
The listing also states that the mountain house comes with over 45 acres of land and is seated in a "tranquil location" away from neighbors. Some exterior walls feature fold-away glass doors to help bring the outdoors in and "during the summer rain the spectacular water falls off of the rock surround the patio for a majestic sound and view that only nature can provide."
Love exposed rock? Yearning to escape the hustle and bustle? This place may just be the perfect spot to call home.